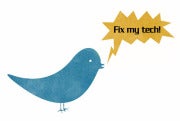 Twitter struggled with service disruptions Thursday morning Pacific time, although its status blog at one point said that the outage had been resolved.
Reports that Twitter was unavailable for most or all users first surfaced at about 9 a.m. Pacific, according to the website downrightnow.com. At 10:30 a.m., the company said that the problem had been resolved, but just before 11 a.m., it revised its statement.
"The issue is on-going and our engineers are working to resolve it," the status blog said.
The company declined to give any explanation for the problem.
Ray Wang, the CEO Constellation Research said that Twitter is building out its infrastructure to accommodate more users–as many as a billion, he sai –and that something may have gone wrong.
"It's not like it's easy to do. They're massively leveraged in terms of infrastructure," he said.
The outage is the first major service disruption since early May, according to the status blog.
Cameron Scott covers search, web services and privacy for The IDG News Service. Follow Cameron on Twitter at CScott_IDG.