At a Glance
Expert's Rating
Pros
Cleans up your inbox
Saves time
Cons
Beta feature SaneCC doesn't always work well
Our Verdict
Sanebox has added new features, and remains a (mostly)useful tool for restoring sanity to the craziest of inboxes.
I spend plenty of time using the free trials that many software and service makers offer. But here's a little secret: I rarely continue using the product when the trial is up and it's time to pay. Sanebox, though, is one exception to that rule. This simple service, designed to save you time by bringing order to your inbox, works so well that it's easily worth its $5-per-month asking price (after a 30-day free trial).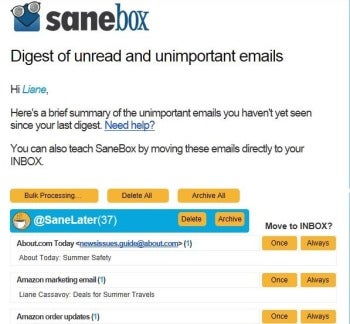 Sanebox is a cloud-based service that works with any IMAP-based email service. You simply enter your email address on their site and give the service permission to access your account; then it goes to work analyzing the contents of your inbox. You can connect social networks such as Facebook, LinkedIn, and Twitter in order to give Sanebox more information on which to base its decisions.
And those decisions, about which emails you need to see now versus which ones can wait until later, are important. That's why I granted the service access to those three social networks and my Gmail account. Then, I sat back and waited.
After about 15 minutes, Sanebox had cleaned up my Gmail account. It had taken an account with 32,000 messages (1,000 of them unread) and whittled it down to 1,200 messages (100 of them unread). The rest of my messages weren't deleted; instead they were placed in newly created folders, such as "SaneLater," "SaneArchive," and "SaneNews."
Instead of feeling relief, though, I instantly felt panic. What if an important email had been filed in the wrong place? That same feeling lasted for the first day or so that I tested Sanebox. I was used to receiving hundreds of emails a day and having dozens of unread messages in my account at any time. Now, I was receiving maybe two dozen messages a day, and my unread messages were in the single digits. It seemed too good to be true.
But it wasn't. Sanebox does a remarkably good job at making sure the messages I need to see are delivered to my inbox most of the time. And on the occasions when it stumbled–sometimes delivering important billing statements or personal messages I'd like to see immediately to my SaneLater folder–the error was easily fixable. Sanebox delivers a regular digest email to your inbox, alerting you to the messages sitting in your SaneLater folder, so you can quickly scan it to see what you've been missing. You can use this digest to train Sanebox to deliver those messages to your inbox in the future. You also can peruse your SaneLater folder at any time, simply by opening it, as it appears on any client that you use to check your email account, including your mobile device.
Sanebox is similar in some ways to Gmail's own Priority Inbox, which labels some messages as important. While Priority Inbox does a pretty good job at identifying important messages (and it does get better with training, just like Sanebox), unimportant messages are still delivered to your inbox. You can click "Important" to remove these untagged messages from your view, but you're still alerted to new mail when they arrive. What I like about Sanebox is that it whisks unimportant messages away before you have the chance to see them, saving you the time of checking them.
Sanebox offers plenty of additional tools, including a SaneBlackHole folder, which kills any annoying messages and newsletters you don't want to receive. Drop a message in that folder, and you won't receive anything from that sender again; future messages from that sender are hidden from your view. You also can opt to defer emails until later, using SaneTomorrow or SaneNextWeek folders, or one with a timeline that you set.
Sanebox promises to save the average user two hours per week. I was skeptical of that claim when I started testing the service. Now, after using it, I think it may have saved me even more time than that.
Note: The Download button takes you to the vendor's site, where you can register to use this Web-based software.
–Liane Cassavoy