Each new gadget brings speculation about what older device it will replace–full-featured laptops supplant desktops, while ever-smarter phones relieve you from carrying a laptop on occasion. But don't overlook the partnerships that can result. Soon, for instance, you'll be able to use an Ultrabook to charge your phone wirelessly, or you'll be able to transfer files by tapping your smartphone to a laptop lid.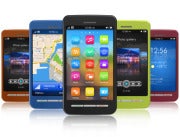 Today, most people connect their smartphones and laptops only occasionally–for transferring a photo, say, or by tethering the phone for Internet access on the laptop. We tend to use these two mobile devices separately, because we've never had a perfect, seamless way to keep the devices connected and in sync. With rapidly developing mobile technologies, though, we're getting closer. Here's a look at the burgeoning simpatico relationship between smartphones and laptops.
Apps for Continual Connectivity and PC Control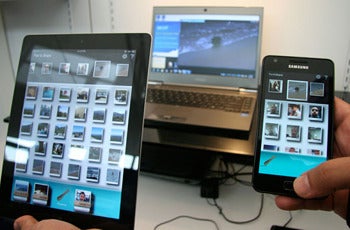 Intel announced last year apps that make connecting smartphones and Windows PCs easier. For example, the Pair & Share app quickly sends photos from your Android phone, iPhone, or tablet to your computer screen or TV, and the TelePort Extender app puts the phone's texting and caller information on the computer.
The free apps are available for download now, but Intel promises even more interaction between mobile devices and laptops–particularly with the new class of Ultrabook laptops.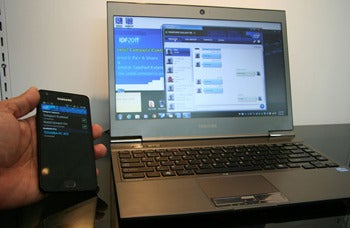 As part of its mission to position Ultrabooks as "the pinnacle of mobile computing devices," the chip maker is working with PC manufacturers to add innovative technologies to the laptops. Aside from touch interfaces and voice and gesture recognition, Intel's plans include more applications for "using smartphones to interact with and control an Ultrabook or desktop PC," according to a recent Intel statement.
This means that in addition to transferring data, smartphones will be able to manipulate your laptop–remotely controlling the PC, perhaps in ways we haven't seen yet. Instead of needing several desktop-mobile connectivity apps (such as a remote desktop tool, a remote control for presentations, a media controller, contact-syncing utilities, and multimedia-syncing apps), we could have one seamless approach.
Wireless Smartphone Charging
The interaction will go both ways: A laptop may manipulate or control a smartphone, too. Intel demonstrated a wireless phone-charging feature for Ultrabooks at the Computex trade show this year. Inside the Ultrabook is a slim transmitter; on the phone is a receiver. You just place the phone next to the Ultrabook to charge the handset–no need to carry around a phone charger or to remember to pack a USB cable.
TransferJet technology offers similar wireless charging capabilities, plus the ability to transfer data at a fast maximum rate of 560 mbps. Although we haven't seen many TransferJet devices since Sony developed the technology and showed it off in 2008, inductive charging and cable-free file transfer certainly could become killer features for your laptop and smartphone, especially for frequent travelers.
Tap to Connect
Other technologies being built into laptops and smartphones allow the devices to share tasks without making physical contact. One expands the near-field communication short-range wireless protocol, now used mostly for mobile payments systems such as Google Wallet's "tap-and-pay" system. MasterCard, meanwhile, is incorporating its PayPass technology into Ultrabooks so that you can wave your smartphone at your laptop to make online purchases more securely.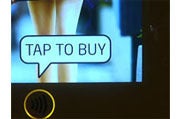 NFC may have other handy uses, such as enabling wireless information sharing between devices. With an NFC-enabled phone and laptop, you may be able to send a contact card, website address, videos, or other information from your phone to your PC without needing to install additional apps or wire the devices together. NFC-enabled phones could also allow you to verify your security information on websites or your laptop. In the future, NFC may support quicker Bluetooth pairing between your phone and laptop. The Hewlett-Packard Envy 14 Spectre is one of the first Ultrabooks to have built-in NFC support.
The Future Is Connected
All of our devices are becoming smarter and more connected. In the years to come, using your smartphone and laptop–as well as your TV, tablet, and other connected devices–together will be simpler. Start playing a game on your laptop, and finish it on your phone. Stream anything from your smartphone to your laptop, or vice versa. Seamlessly access all your information on any device. We've seen hints and examples of such capabilities already, but that's just scratching the surface of what's starting to be possible.
Follow Melanie Pinola (@melaniepinola) and Today@PCWorld on Twitter.