Google's Galaxy Nexus phone may soon receive Android 4.1, codenamed "Jelly Bean," according to an inadvertent leak by Google.
On Thursday, the Google Play Store displayed the following message when shoppers added the Galaxy Nexus to their carts: "The latest smartphone from Google, soon the first phone with Android 4.1 Jell…" The message was spotted by Droid-Life, GigaOM, and others before Google removed it.
Google may announce Android 4.1 during its Google IO developers conference next week. The company is also expected to introduce a 7-inch Nexus tablet, built by Asus, that runs the latest software.
But despite lots of rumors about the release of Jelly Bean, and the devices that will run it, not much is known about its features. A screenshot of Google's IO application, possibly taken on a Jelly Bean device, hints at a redesigned search widget and Chrome as the default browser, but that's about it.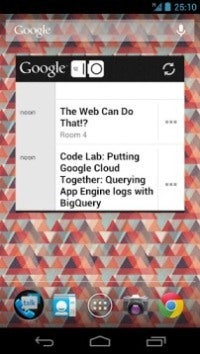 Google has also talked about new Maps features for mobile devices, such as offline access and 3D flyovers, but those features may be available for all users, not just those with Jelly Bean on their phones.
Personally, I'd like to see Google take on Apple's Passbook and Microsoft's Windows Phone 8 wallet with its own app for loyalty cards, coupons, and event tickets, as an extension of Google Wallet. I'd also like to see built-in remote wipe and geolocation for lost or stolen phones, similar to Apple's "Find My iPhone" service. Expanded voice commands, or a full-blown Siri competitor, would be nice as well. Finally, I'm hoping for tighter Google Drive integration, so you could pull files directly from the online storage service into other apps.
If Google really is planning to bring Android 4.1 to the Galaxy Nexus soon, we're likely to hear a lot more next week at Google IO. Stay tuned for updates from the conference, which kicks off on Tuesday.
Follow Jared on Twitter, Facebook, or Google+ and follow Today@PCWorld on Twitter for even more tech news and commentary.