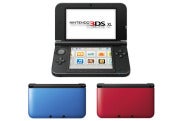 The criticisms are already piling on for Nintendo's 3DS XL, a larger version of the company's handheld game console, because it doesn't include a second analog stick.
Like the original 3DS, which launched in February 2011, the 3DS XL has one analog thumb pad to the left of the touch screen. Although Nintendo sells a second stick peripheral for the 3DS, called the Circle Pad Pro, the 3DS XL sticks to the single-stick design of the original 3DS.
Not surprisingly, the move is drawing jeers from gamers and the press, who want their handhelds to feel like home console controllers.
"After the company's recent E3 horror show, the last thing Nintendo really needed was to present its critics with even more ammunition, but the 3DS XL is perhaps Nintendo's biggest own goal in recent memory," Pocket-Gamer's Kristan Reed wrote.
"Talk about a missed opportunity," Kotaku's Luke Plunkett wrote.
I understand the complaints, but adding a second stick isn't the no-brainer that critics claim.
As of March 2012, Nintendo had sold more than 4.5 million 3DS units to date in the United States, and more than 5 million units in Japan. That's roughly 10 million users who don't have a second stick attached to their devices. A lot of those users may have purchased the Circle Pad Pro attachment, but I'm guessing that the majority have not.
It's All About the Software
The main reason Nintendo made drastic 3DS price cuts last year was to jump-start third-party software development and retail support. A statement from Nintendo President Satoru Iwata spells this reasoning out (emphasis mine): "If the software creators and those on the retail side are not confident that the Nintendo 3DS is a worthy successor to the DS and will achieve a similarly broad (user) base, it will be impossible for the 3DS to gain popularity, acquire a wide range of software, and eventually create the product cycle necessary for everyone to be satisfied with the system."
If Nintendo launched the 3DS XL with a second stick, the price cut would have been for naught. Fragmentation would occur between 3DS XL owners, who have a second stick on board, and original 3DS owners, who don't. Game publishers would have to choose which user base to target, and I imagine most of them would target the larger installed base anyway.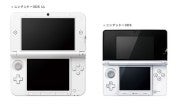 Publishers could just give gamers a choice of control schemes, but that's not ideal, either. When you try to design a game for two different sets of buttons, it waters down the experience for both. A first-person shooter, for instance, wouldn't be able to map actions to the 3DS face buttons if some users need those buttons for camera controls.
By launching a 3DS XL without a second thumbstick, Nintendo is sending a message to third-party game developers: Come up with ideas that don't require the second stick. That may not be what core gamers want to hear, but it's all Nintendo can do at this point, short of forcing 10 million users to buy a $20 second stick peripheral.
Did Nintendo make a mistake by not including a second stick in the first place? Absolutely. But what's done is done, and now Nintendo has to make the best of it.
Follow Jared on Twitter, Facebook or Google+ for even more tech news and commentary.