If you need graphical elements, Tropicana–a TrueType dingbats font from Blue Vinyl, maker of Tiki Tooka–may awaken your inner beachcomber. Tropicana comprises 26 different depictions including fish, hibiscus, palm trees, a parrot, seashells, tiki, and umbrella drinks.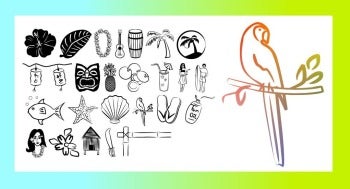 All Tropicana's dingbats are drawn using stylish smooth lines and impeccable attention to detail. Some of the icons are classy enough to use for even a beach wedding or non-flip-flop event. For most of the characters, 18 points is the minimum size for clarity. However unlike most dingbats fonts, Tropicana holds up well to being greatly oversized: This font is a step above your normal pictorial icons.
Tropicana is free for personal use; for commercial use contact the designer, Jess Latham. As with Tiki Tooka, Latham is currently in the process of converting Tropicana to OpenType.
Note: To use this font, unzip the folder and install the .ttf file in the folder C:WindowsFonts. Note that the font won't appear in your applications until you close and re-open them.
–Clare Brandt