At a Glance
Expert's Rating
Pros
Silently works in the background
Pops up only when needed
Cons
Works best with products found in multiple stores
Our Verdict
Browser add-on PriceBlink helps you find coupons and compare prices among various e-retailers.
The Internet makes it easy to compare prices on just about any product, but it can be time-consuming to search from site to site. Tools like PriceBlink (free) can speed up this chore by scouring the Net for prices as you shop and sending you the prices from competing sites as you search. PriceBlink is a browser add-on with versions that work with Firefox, Google Chrome, Internet Explorer, and Safari.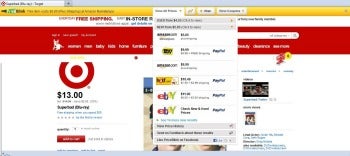 PriceBlink does a good job of being unobtrusive, yet readily available. Most of the time, as you bop from site to site on the Web, you won't know it's there. But when you visit a participating e-retailer's website (and if it's major retailing site, it's likely participating), a thin bar pops up along the top of the screen just below the browser's toolbar. On every page of the participating website, the toolbar displays the coupons for that retailer via a drop-down list. Once you click a specific product on the site, PriceBlink will search for other retailers that sell that product for less, offering another drop-down list where you can see competitors' prices. If all of the prices it finds are higher, it will pop up with the phrase, "The next lowest price is $xx at [whatever store]." If it doesn't find anything, it will pop up with the phrase, "Sorry, no price comparison results found for this product." A third drop-down box, labeled "Wish," lets you name a price for the item you'd like to buy and receive a notification via e-mail when the item drops to that price. You must create an account with an email address and password to use the Wish feature.
Having the shipping cost as well as the base price is the only way to know the real price of an item, so including both is key to making a price comparison tool useful. PriceBlink did include shipping costs, including whether the price includes free shipping, most of the time. But some e-retailers, mainly Amazon, often added the vague "plus shipping," forcing users to click to Amazon's site to find out how much the total cost is there. In my searches, Amazon came up on the list many times even though it often was not cheaper once standard shipping costs were figured in, amounting to a waste of time. PriceBlink's FAQ states that they try to get shipping costs from retailers, but not all retailers will provide that information.
If you're wondering which retailers are affiliated with PriceBlink, go to priceblink.com, where it lists thousands of sites in alphabetical order. The site also lists popular coupons from particular retailers and lets you manage your wish lists and sign up for coupon alerts from individual stores.
Since the price comparison in PriceBlink is brand-focused, it works best for products sold across multiple stores, such as books and electronics. PriceBlink often came up empty for price searches on more proprietary items, such as clothes or furniture. Still, the coupon tool helped to provide a small measure of usefulness where it couldn't offer price comparisons.
PriceBlink is a simple, free add-on that offers a useful service without much fuss, and it understands the importance of doing so silently, which I appreciate.
Note: The Download button takes you to the vendor's site, where you can download the version of the software appropriate to your system and your browser.
–Lisa Cekan