Yet another criminal has managed to get himself caught after posting on Facebook.
Convicted robber James Tindell skipped out of Oregon earlier this year to avoid court-ordered drug treatment and other conditions he had accepted so as to avoid prison.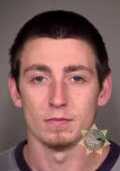 But instead of flying under the radar, Tindell made Facebook posts that taunted his probation officer, complained about the judge who sentenced him, and ranted about the criminal justice system. Not only that, he posted things like "I'm in Alabama" and a sonogram of his unborn child that showed the name of the hospital in Alabama where it was taken.
His probation officer spotted the posts and asked prosecutors to issue a nationwide arrest warrant. Tindell was then apprehended after getting pulled over for speeding — another genius move by someone running from the law.
In the end the clueless criminal was ordered to reimburse the state $2600 for flying him back to Oregon and sent to prison for 2½ years.
It's far from an isolated case.
Last year a thief in Georgia used a cell phone he found in a stolen purse to post a picture of himself on the victim's Facebook page. He likely didn't know the phone's owner had it set up to automatically post photos to the social network.
And in April a dim-witted British crook was busted after a friend posted a photo of him on Facebook with a TV he'd stolen.
Charles Holden stole a plasma TV, a PlayStation, and some games from a house in which he formerly had roomed. He then sold the goods right outside the door while one of his friends snapped a picture of the transaction.
The victim, suspecting Holden, snooped around on his Facebook page as well as those of his friends and spotted the incriminating photo, which led to an arrest.
And this one is classic: A Pennsylvania man back in 2009 stopped to check his Facebook account on a computer in the home he was in the process of robbing. He forgot to log out before taking off with his loot.
Of course, the victim later noticed his mistake and gave police identifying information to make a speedy arrest.
Although you'd think enough of these stories have surfaced that malefactors would wise up, apparently stupidity is perennial. If nothing else, they're good for chuckles. See also "Stupid Criminal Tricks on Facebook.")
Follow Christina on Twitter and Google+ for even more tech news and commentary and follow Today@PCWorld on Twitter, too.