Mozilla on Tuesday rolled out a brand-new version of its popular Firefox browser for Android that's designed to deliver faster performance, a fresh new look, and Flash support, among many new features.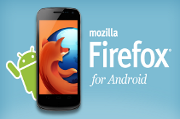 "The new Firefox for Android is a snappy and dynamic upgrade to mobile browsing that makes it faster and easier to get where you want to go on the Web," reads the official announcement on the Mozilla Blog.
Designed for smartphones running Android 2.2 or later, the new Firefox 14 for Android is now available in the Google Play Market as a free download.
'Dramatic Performance Improvements'
First and foremost among Firefox for Android's new features are significantly faster speeds, Mozilla says.
"We redesigned Firefox for Android to make it a screaming fast and personalized upgrade to mobile browsing that lets you take your Web experience everywhere you go," Mozilla explains. "You'll notice dramatic performance improvements that make Firefox on your Android phone super fast with everything from startup and page load times to panning and zooming and Web app performance."
In fact, Firefox for Android is apparently twice as fast as the stock Android browser on Mozilla's Eideticker benchmark, which measures the user's Web experience. It's also significantly faster on standard industry benchmarks, such as Sunspider.
The video below depicts the software's newly boosted startup time.
'The Highest Level of Privacy and Security'
Also included in the new Firefox for Android is a fresh new look and a personalized start page. A new Awesome Screen powered by Firefox Sync delivers all your browsing history, bookmarks, passwords and form data to your Android phone.
Features including tabbed browsing, Firefox Sync, and Firefox Add-ons have now been optimized for mobile browsing, and Flash support means "you can watch videos, play games, and interact with more Web content on your Android phone," Mozilla notes.
With features including Do Not Track, Master Password, and HTTP Strict Transport Security, meanwhile, Firefox for Android offers "the highest level of privacy and security features in mobile browsing," the project explains.
New HTML5 Capabilities
Last but not least, new HTML5 capabilities in Firefox for Android allow developers to create rich Web apps and websites based on HTML5, JavaScript, CSS, and other open Web standards.
The video below offers an overview of some of the open source software's key new features. More detail can be found in the official release notes for Firefox for Android.
Do you plan to try out Mozilla's new software? If so, please leave your impressions in the comments.