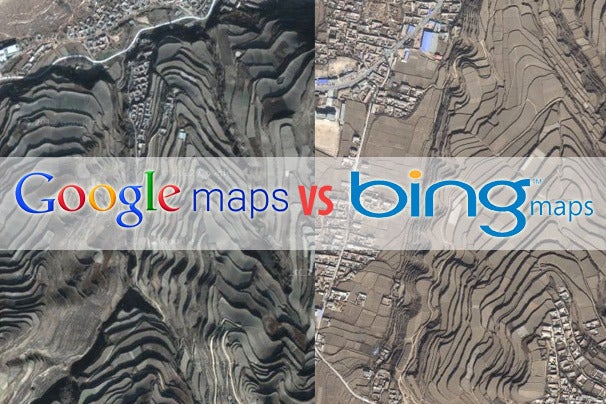 Microsoft has set its sights on Google Maps, adding more than 165 terabytes of new satellite imagery to Bing Maps. This is the biggest ever data release for Bing Maps, which had 129TB of data at its disposal.
Of course, Google isn't standing pat; the company has added detailed 3D landmarks to its service.
Let's take a head-to-head look at Google Maps and Bing Maps to see which service provides a better view of various locations around the world.
Hagia Sophia — Istanbul, Turkey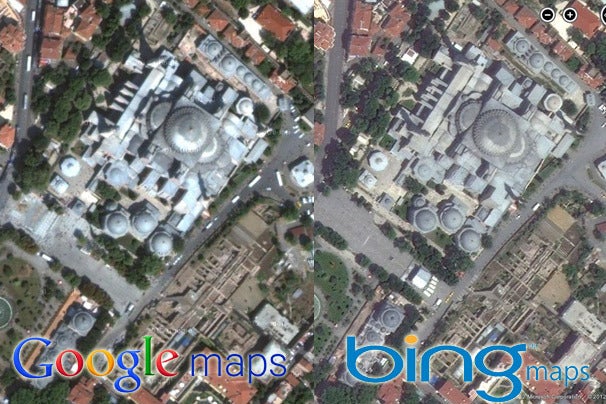 Looking at the Hagia Spohia museum in Istanbul, Google Maps' satellite view has more vivid colors, but Bing Maps has the upper hand when it comes to noticeable details, especially looking at the intricacies of the roof.
Winner: Bing Maps
Schloss Moritzburg — Germany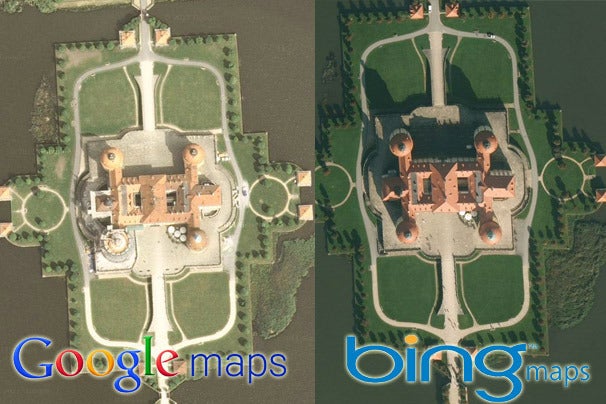 The Moritzburg castle in Germany shines on Bing Maps, while Google Maps has washed out colors and lacks detail.
Winner: Bing Maps
Durrat Al Bahrain — Kingdom of Bahrain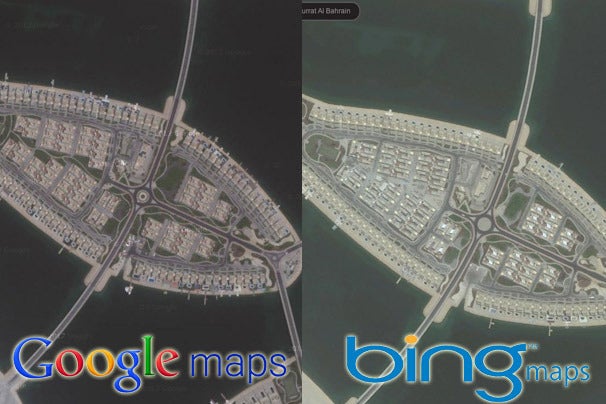 The stunning man-made islands in Bahrain look good in both Bing and Google Maps, with a lot of visible detail, though with a noticeable color reproduction difference.
Winner: Tie
Fields near San Agustin — Andalusia, Spain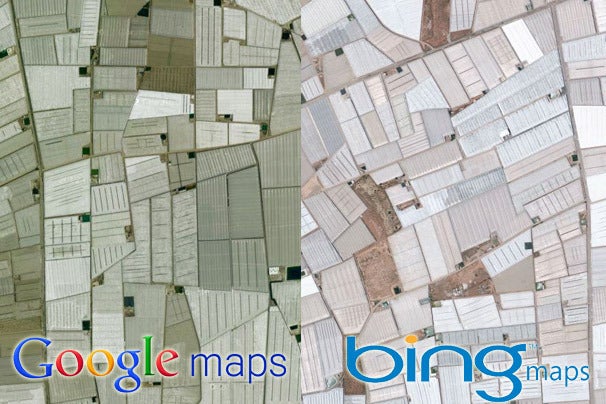 The fields near the Andalusian town of San Agustin are rich with sharp details on Google Maps, but on Bing Maps the colors really pop out and give it a more realistic feel.
Winner: Tie
Mendenhall Glacier — Juneau, Alaska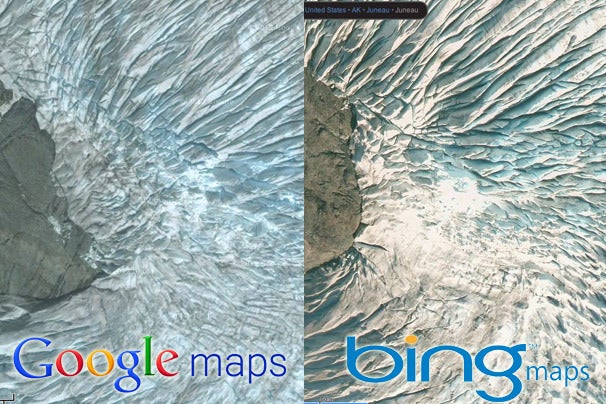 The details, shadows and colors in Bing's imagery of the Mendenhall Glacier in Alaska are topping Google Maps, which has imagery on a less sunny day it seems.
Winner: Bing Maps
Moroccan Mountains — Assa, Morocco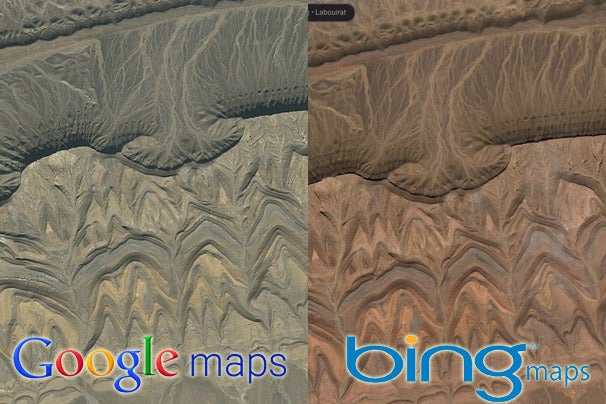 Google and Bing have great imagery of the Moroccan mountains, featuring the same level of details, but with noticeable color differences.
Winner: Tie
Burj Khalifa — Dubai, United Arab Emirates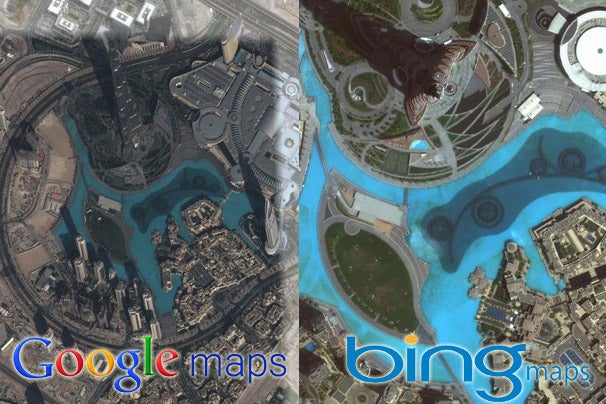 Strangely enough, Google Maps does not have very good satellite imagery of the tallest building in the world. On Bing though, colors are vivid, details are sharp and the buildings do not look slanted.
Winner: Bing Maps
Taipei 101 — Taiwan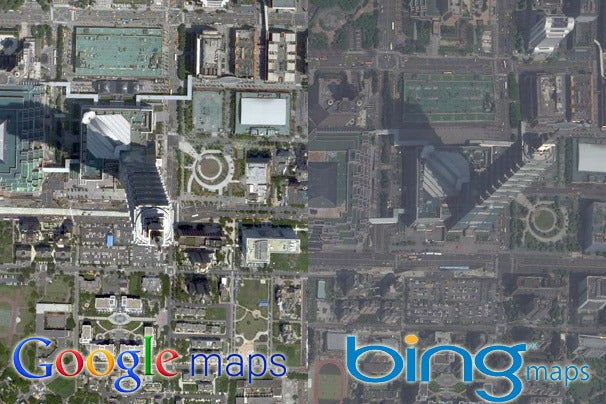 Looking at another tall building, the Taipei 101, Google Maps has better colors and more details, as Bing's imagery looks like it caught some haze on the lens.
Winner: Google Maps
Sarychevo Peak Volcano — Sarychevo, Russia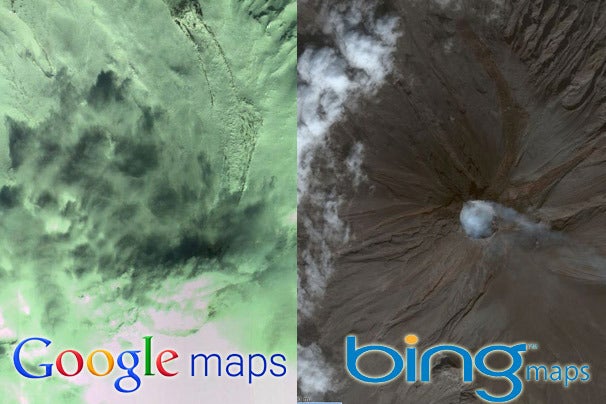 Google Maps had a really bad day when snapping the Sarychevo Peak Volcano in Russia. For some reason, the entire island is in a green hue, while Bing showcases detailed color-accurate images of the volcano.
Winner: Bing Maps
Oropeza — Chuquisaca, Bolivia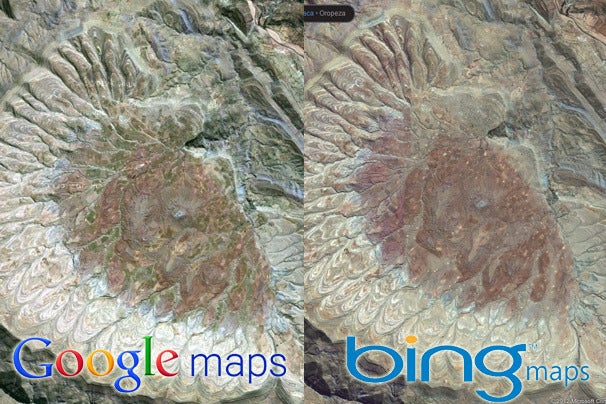 The Oropeza Mountains in Bolivia look stunning in sharp imagery on both Google Maps and Bing Maps. It looks like the images were taken at different times of the year, yet both are very detailed.
Winner: Tie
Bing Maps emerges on top, taking five out of 10, with Google Maps getting one win to go with four ties.