A federal court in California has blocked the sale of Samsung's Galaxy Tab 10.1 tablet in the U.S. in a patent dispute between Apple and Samsung, a ruling that Samsung intends to appeal.
In an order on Tuesday granting the preliminary injunction, Judge Lucy H. Koh of the U.S. District Court for the Northern District of California, San Jose division has enjoined Samsung and its U.S. subsidiaries from importing or selling within the U.S. the tablet or any "product that is no more than colorably different from this specified product and embodies any design contained in U.S. Design Patent No. D504,889."
The patent refers to the ornamental design of the device. The court previously found the Galaxy Tab 10.1 to be substantially similar "in the eyes of the ordinary observer" to the D'889, the Judge said. It noted that the Galaxy Tab 10.1 is "virtually indistinguishable" from Apple's iPad and iPad 2, she added.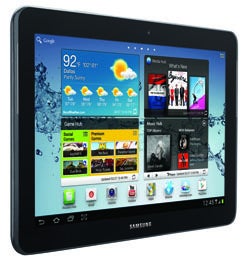 Apple has been ordered to post a bond for $2.6 million towards any damages sustained by Samsung if it is later found to have been wrongfully enjoined, Judge Koh said in her eight-page order.
The maker of the iPad tablet and other iconic devices filed in July last year for a preliminary injunction against the Galaxy Tab 10.1 tablet, which had been released about four months earlier, as well as several Samsung smartphones. It alleged that Samsung had infringed the D'889 patent, as well as a utility patent.
In a December 2, 2011 order, Judge Koh found that Apple had established that the Samsung Galaxy Tab 10.1 likely infringed upon the D'889 Patent, and that Apple was likely to suffer irreparable harm as a result of Samsung's infringing conduct. However, the court denied the preliminary injunction because the D'889 Patent was likely invalid based on several prior art references.
The Court of Appeals for the Federal Circuit upheld District Court's findings of infringement and irreparable harm with respect to the D'889 Patent, but reversed the court's invalidity finding as to the patent, Judge Koh said in her order on Tuesday.
The appeals court remanded to the District Court to assess the balance of hardships and public interest factors.
This District Court finds that the balance of hardships tips in Apple's favor, in the light of the Federal Circuit's ruling that Samsung has not raised a substantial question as to the validity of the D'889 Patent, Judge Koh said in her order.
Samsung was not immediately available for comment on the order. Judge Koh's order becomes effective as soon as Apple posts the bond.
John Ribeiro covers outsourcing and general technology breaking news from India for The IDG News Service. Follow John on Twitter at @Johnribeiro. John's e-mail address is john_ribeiro@idg.com.