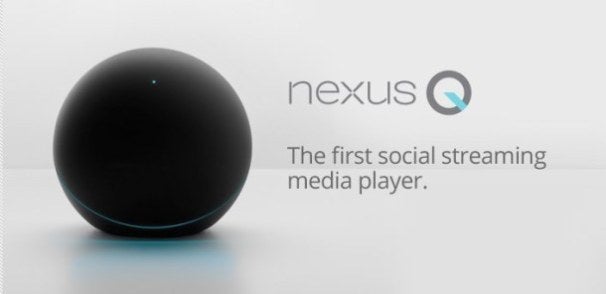 Google debuted a new orb-shaped media streaming device called the Nexus Q before it took the stage for its Google I/O keynote. The Nexus , what the company calls "the first social streaming media player" first appeared on the Google Play website store.
Google's Nexus Q uses your Android smartphone or tablet in conjunction with Google Play to stream music and videos to your HDTV, sound system, or a pair of speakers. What sets the Nexus Q apart from similar media streaming devices, such as Apple TV, is that it allows you to collaborate with friends via your Android device to create playlists of music and video clips.
The Nexus Q isn't just an Apple TV clone device from Google. Think of the Nexus Q as a hybrid between Apple's streaming puck and the Sonos music streaming stereo component. The Q features a built-in 25W amp that can power a pair of bookshelf speakers. In addition, users can sync Qs across multiple rooms.
From a video promo (see below) of the Nexus Q Google says: "streams your favorite entertainment from Google Play and YouTube to the biggest speakers and screen in the house."
Using the Q, Android users on the same WiFi network can "queue" (get it?) up their Google Play Music tracks. Every user sees the same playlist, and can edit it as they see fit, hence "the first social streaming media player."
The Nexus Q runs Ice Cream Sandwich, is powered by a dual-core OMAP4460, with 16GB of storage. Google will be shipping the Nexus Q in the next 2-3 weeks for a list price of $299. It's thrice the price of an Apple TV, but it packs lots more features.