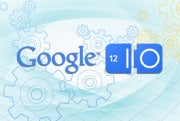 Google kicked off its annual Google I/O developer keynote in a big way Wednesday by announcing a new version of the Android operating system, a new tablet, a media streamer, and Google+ updates, along with news on the company's Project Glass. Here's an overview of Google's announcements today.
Android Activations
To kick off the keynote, Google announced that its various hardware partners have sold over 400 million Android-based devices, and that over 1 million Android phones and tablets are activated every day. By comparison, at last year's Google I/O, the company said that 100 million Android devices had shipped up to that point.
Android 4.1 Jelly Bean
The next major update to Android, known as Jelly Bean, is an incremental improvement to Ice Cream Sandwich. It starts with Project Butter, which is Google's attempt to improve Android's performance. As part of Project Butter, animations for scrolling and swiping should now look smoother and less jittery than they did on prior versions of Android. It should recognize touchscreen input more quickly as well.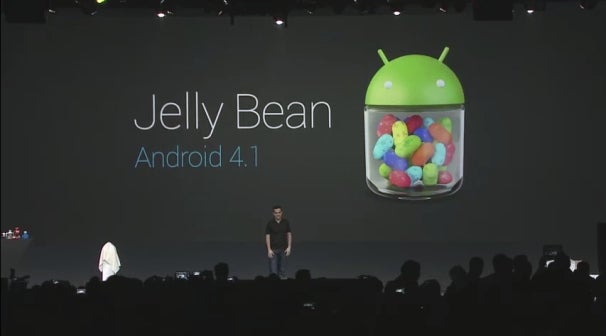 The biggest new feature consists of various improvements to search. Jelly Bean uses a new search interface–called "cards"–to make it easier to read and digest certain types of information. For example, if you search for the weather forecast, you'll get an attractive display that shows the weather conditions, temperature, and forecast in a manner that isn't all that dissimilar to how Apple's Siri feature displays such information.
Search cards can show all sorts of things–the weather forecast, answers to questions, image search results, and more–and it works with Android's voice search feature.
Other additions include improvements to the homescreen, an upgraded camera app, the ability to send photos and videos from one phone to another via Google Beam, and more. Jelly Bean will come to the Galaxy Nexus and Galaxy S smartphones, and to the Xoom tablet in mid-July.
Nexus 7 Tablet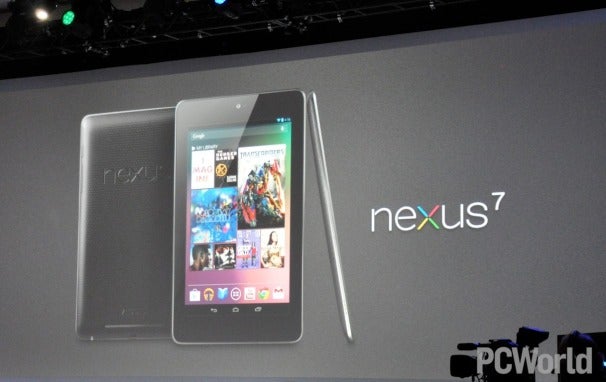 The rumors were true: The Nexus 7 is a 7-inch Google-branded tablet built by Asus. It features a 1280-by-800-pixel display, a front-facing camera, and built-in NFC, as well as requisite Wi-Fi and Bluetooth capabilities. It's built around Nvidia's Tegra 3 chip, which has a quad-core processor and a 12-core graphics chip. The Nexus 7 weighs 340 grams, which is equivalent to about 0.75 pounds.
Software-wise, the Nexus 7 will ship with Jelly Bean, and it'll be centered heavily around the Google Play Store: When you turn it on, content from Google Play will be front and center, which makes it a little bit like the Kindle Fire. The Nexus 7 supports a full complement of media types: Video, magazines, music, books, you name it. In addition, the Nexus 7 will use the Android version of Google Chrome as its default browser instead of the standard Android Web browser. The Nexus 7 costs $199; it'll ship in mid-July, but you can order one starting today.
Nexus Q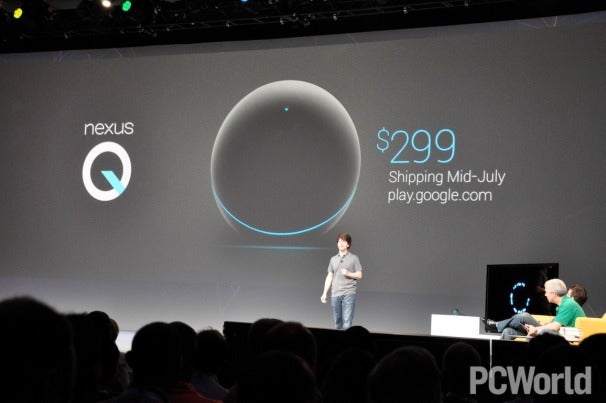 The Nexus Q is what Google calls "the first social streaming media player." This orb-shaped device, which is now available via the Google Play Store, works with your Android smartphone and tablet, along with Google Play, to stream music and videos to your HDTV, a sound system, or a pair of speakers. But unlike similar gadgets, such as the Apple TV, the Nexus Q lets you collaborate with friends via your Android phone or tablet to put together music and video playlists.
The Nexus Q ships in mid-July, and costs $299 for a 16GB model.
Google+ Tablet App and Events
Google announced a new app for Google+ for both Android and iOS. The app will let you do everything that you can do through the standard desktop-oriented Google+ site, including Google Hangouts (yay). The Google+ app is available today for Android phones and tablets; the iOS version is pending approval from Apple.
Also new are Google Events, which lets you schedule and plan events via Google+. You can use it to invite your guests, and it has a feature that lets you view photos from the event as the event is in progress.
Project Glass Demo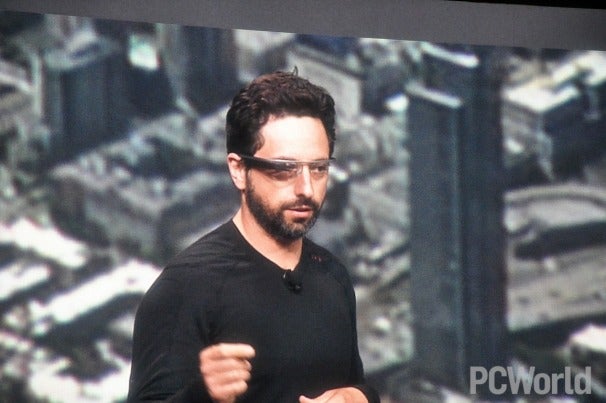 Google co-founder Sergey Brin interrupted the Google+ news to give a (rather lengthy) demo of Google's Project Glass, the company's futuristic head-mounted computer. As part of the demonstration, Google had five people jump out of a blimp while wearing Project Glass headgear and broadcasting their jump via a Google Hangout.
The Google Glass hardware itself comes with a camera, speaker, and microphone, and it includes a touchpad on the side so you can interact with it. Its guts include a compass, gyroscope, and accelerometers, and multiple radios for a data connection (presumably 3G, 4G, and Wi-Fi, though we don't yet know for certain). Google didn't disclose how much it weighs, but does say that it weighs less than "many sunglasses."
Although Google Glass isn't available yet, U.S.-based developers attending Google I/O can preorder a prototype version today for $1500 that will ship sometime early next year.