Google took a cue from Amazon's Kindle Fire announcing the Nexus 7 tablet optimized for content from Google Play including books, games, TV shows, movies, apps, and magazines. The new Asus-built Nexus tablet will be the first device to debut with Android 4.1 Jelly Bean, the newest version of Android launching in mid-July. The Galaxy Nexus 7 will cost $200 for an 8GB device and $250 for the 16GB version. The new tablet is available for pre-order now directly from Google and starts shipping around the Jelly Bean launch.
If you've been following the rumors surrounding the Nexus 7 then you already know most of the specs for Google's first Nexus tablet. The device features a 7-inch screen with 1280-by-800 resolution at 216 pixels per inch, 8GB or 16GB storage, 1 GB RAM, a quad-core Nvidia Tegra 3 processor along with Nvidia's usual 12-core GeForce GPU. The Nexus 7 also features 802.11 b/g/n Wi-Fi, Bluetooth, GPS, near-field communication, and a 1.2 megapixel front-facing camera. Google claims the Nexus 7 offers up to 9 hours of continual video playing and up to 300 hours standby time. The search giant's new tablet weighs about 0.75 pounds.
Nexus4Play
Similar to the Kindle Fire, Google is positioning the Nexus 7 as a gateway into all the content you can purchase or rent on Google Play. It's not clear if the Nexus 7 will be a "buying machine" the way some have described Amazon's Kindle Fire's seamless access to Amazon's digital storefront. But Google would certainly like you to believe that this is what the Nexus 7 is all about.
Google announced on Wednesday that Google Play is now offering movie and television episode purchases in addition to rentals. The company is also rolling out a new magazines platform that will include titles such as Esquire, Shape, and Popular Mechanics.
The Nexus 7 also features a widget with personalized recommendations for content you can purchase from Google Play. You can also customize the widget to show you only certain types of media such as games, movies, and books.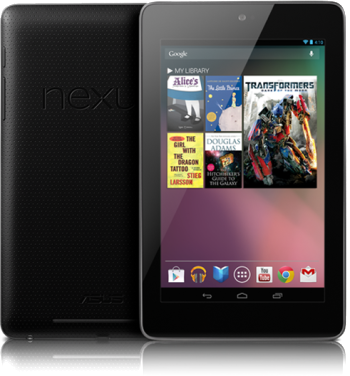 To help encourage your Google Play habit, the Nexus 7 for a limited time will come with a $25 purchase credit for Google Play. The device will also be pre-loaded with content including Transfomers: Dark Side of the Moon, The Bourne Dominion by Eric van Lustbader (the ninth novel in the Bourne series), and a selection of magazines such as Conde Nast Traveler, Food Network and Popular Science.
Google Apps
The Nexus 7 is also the first device to come with Chrome as the default browser. It was not clear at the time of this writing if Chrome will be the default browser on all Jelly Bean devices or if this is a Nexus 7-specific feature. The Nexus 7 also comes with a new version of Google Currents, the search giant's Flipboard imitator, that includes a new Google Translate feature to switch any content into a different language.
One of the Google Maps features the company showed off on Wednesday was a new compass mode for Business Photos, a Street View-like feature that lets you look inside a business. In compass mode, Business Photos hooks into the Nexus 7's gyroscope so all you have to do to look around a business inside Google Maps is turn your device instead of tapping to navigate.
The Nexus 7 will also feature Google Now, a new feature built into the Google search service in Jelly Bean. Google Now is kind of like Apple's digital personal assistant Siri, but can provide you with a lot of information unprompted. If, for example, you have an upcoming appointment across town, Google Now can alert you to when you should leave for the appointment and provide the most optimum route to get there based on traffic or transit schedules. Google Now can also alert you automatically to scores for your favorite teams, flight tracking information and weather. Google has been talking about offering a Google Now-type service for years.
The Nexus 7 sounds like a great device, and given its low price, tight integration into the Google Play Store and impressive specs, this device could become the most successful Android tablet yet.
Connect with Ian Paul (@ianpaul) on Twitter andGoogle+, and with Today@PCWorld on Twitter for the latest tech news and analysis.