Can Mozilla's Thunderbird really take the place of a big-boy mail client like Outlook? With the addition of an incredibly handy new feature, it just got one step closer.
It's called Filelink, and it solves a problem that's plagued email users for years: mail servers don't like giant file attachments.
Sure, if you're trying to send, say, a 30MB batch of files, you can hop out of your mail program and fire up a service like Dropbox or YouSendIt — but then you have to upload your file, make it shareable, find and paste in the recipient's email address, hope that external services aren't blocked at his/her end, and so on.
In an ideal world, you'd just attach the file(s) like any other, size be damned. And that's the idea behind Filelink: It works with external services to make for seamless big-file sending.
Currently, Filelink works only with YouSendIt (which, incidentally, recently unveiled a business-friendly file-management tool called Workstream), but other services will be added in future Thunderbird releases.
The good news is that you can get a free YouSendIt Lite account that allows you to send files as large as 50MB. Here's how to set that up in Thunderbird:
1. Click Tools, Options, Attachments, and then click Outgoing.
2. Click Add; you'll see YouSendIt as the default Filelink provider.
3. Enter your existing YouSendIt username, or click Need an account if you, well, need an account. That'll temporarily bop you out to your browser, where you'll complete the registration. When all is said and done, you'll enter that username and click Set Up Account.
Now, when you go to attach a file that's larger than a specified size (which you can modify in the settings), Thunderbird will give you the option of using Filelink. Just click Link and follow the prompts.
As with a file sent via YouSendIt proper, the recipient will get your email along with a link for downloading the large attachment. It's all very simple, and the integration is a major convenience for both parties.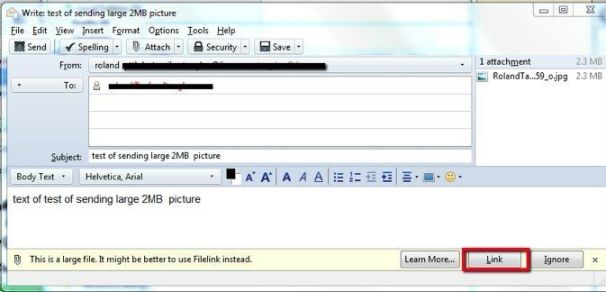 What do you think of the new feature? Is it something you'd use? Or are you going to wait for Mozilla to add support for the likes of Dropbox and SugarSync? (I'm definitely hoping for both.)