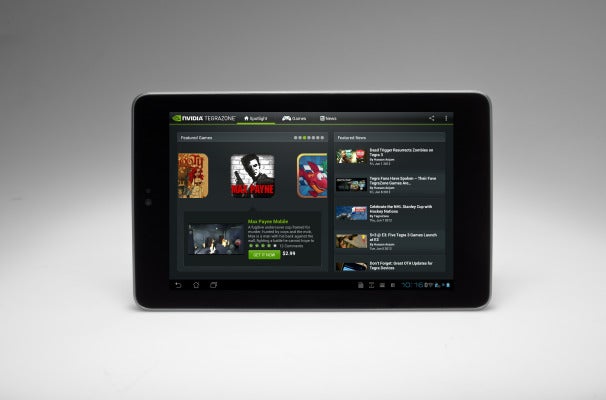 Google's Nexus 7 tablet is on display here at Google I/O, and I spent some time handling the device to see how it compares with its Android competition. And the truth is, my first impression is that it seems to get a lot right, but it's not a complete, compromise-free home run for Google. Here's why.
What's Right
The display, even in the funky lighting of a trade show floor, still looked good. The high-resolution 1280 by 800 pixel display makes a huge difference compared with the current standard for 7-inch tablets–1024 by 600 pixels. I look forward to putting the Nexus 7 through its full paces with PCWorld's display test images to see how it responds with my own high-resolution images. But the Nexus 7's higher resolution is clearly a plus.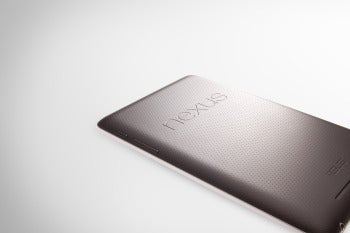 I also liked the grippy, rubberized back that, coupled with the tablet's light, 0.75-pound weight, makes it really easy to hold in one hand. That makes it conducive to reading or sharing content with friends.
In my limited usage, the Nvidia Tegra 3 processor and Android 4.1 Jelly Bean OS made the unit feel zippy in general navigation, but I still encountered moments of stutter as I switched among media.
What's Wrong
The first thing that jumped out to me was the lack of a removable media card slot. With on-board storage limited to just 8GB or 16GB, the lack of an expansion slot is an unfortunate omission, and an unfortunate compromise to achieve a price point. Amazon got (and deserved) a lot of criticism for a similar lack in its 8GB Kindle Fire. Even Barnes & Noble's Nook Tablet has a microSD card slot.
Also missing: A rear camera. Video chat is important, but scanning QR codes, business cards or bar codes are all useful and practical reasons a rear-facing camera on a tablet remains a good thing. It's unfortunate that Google and Asus had to compromise on these to get Google Nexus 7 out at the price they do.
What's Most Interesting
The new Google Play widgets for your library of reading material, as well as for what you're listening to, look useful. The new launcher also looks useful; the Google demonstrators say you'll find it on Android 4.1 devices of a certain size and definition (ie, portrait 7-inch tablets). These widgets are part of Play, though, and should become available to any tablet that upgrades to Android 4.1–whenever that may be.
I'll be back with more impressions once I get a Nexus 7 of my own to spend some quality time with, using my own content.