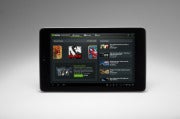 At $199, Google's Nexus 7 may seem like a tempting tablet, but some potential buyers and analysts say that it lacks hardware features and is a feeble attempt to energize the Android OS in a market dominated by Apple.
Google on Wednesday announced the Nexus 7, which is now available at the Google Play online store for $199 for a model with 8GB of storage and $249 for a 16GB model. The tablet, made in collaboration with Asus, has a 7-inch screen and Google's latest Android 4.1 operating system code-named Jelly Bean.
Nexus 7 joins a crowded tablet market that includes the dominant iPad and a collection of devices based on the Android OS from Samsung, Lenovo, Asus, Acer and Toshiba. Analysts have said that Google is following Apple's lead and introducing the Nexus 7 so Android OS can grow in tablets by bringing hardware, software and services closer. Google offers apps, music, books, and movies through the Google Play store, but analysts say that Nexus 7 is more a competitive threat to Amazon.com's $199 Kindle Fire tablet, which is based on Android and closely bundles services, entertainment and cloud offerings.
Calling Google's announcement "out of character," Richard Shim, senior analyst at NPD DisplaySearch, said Nexus 7 makes the search giant a competitor in the hardware space, which will continue as products roll out from Motorola Mobility, which Google acquired for $12.5 billion [B].
Google's user base is not nearly as strong as Apple or Amazon, so it will take time to build a strong customer base, said Frank Gillett, an analyst at Forrester Research, in a research note sent via email.
"Google's real tablet problem is the lack of compelling tablet-optimized apps and Google has yet to address how to motivate developers to fill the gap. Nor has Google addressed the continuing and growing fragmentation problem where few devices are updated to the current OS, because carriers and device makers don't push out the new versions or users don't take them," Gillett wrote.
The Nexus 7 displays images at a 1280-pixel by 800-pixel resolution, and the device is 10.16 millimeters thick and weighs 317 grams. Other features include a front-facing camera and connectivity options such as Wi-Fi, Bluetooth and NFC (near-field communication). The device offers battery life of up to nine hours on video playback and 300 hours of standby time.
The Nexus 7 design lacks storage and 3G/4G mobile broadband support, which makes it less useful, said Geoff Kratz, who runs technology consulting company FarWest Software in Calgary, Canada.
But he has placed an order for a Nexus 7 and plans to use it as a test platform. He already owns a 7-inch Samsung Galaxy Tab.
"The [Nexus 7] features, other than CPU and graphics processing, aren't radically different from what you can get from Samsung, Sony or Apple. There's nothing here that forces the main players to play 'catch up'," Kratz said by email.
Kratz thinks this could be a one-off device from Google, which doesn't have a consistent history of maintaining hardware devices. He also wondered why Google had to partner with Asus to make the tablet, instead of making a product through Motorola Mobility unit, which sells tablets such as the Xoom.
"Google has this habit of releasing a device, and once it sells out, never selling another one," Kratz said. "This one looks a bit like a one-off for them."
Looks Good
Google Nexus is an intriguing move by Google into the tablet world, and it could bring a level of credibility to the Android tablet ecosystem after initial failures, said Vishal Sood, a technology enthusiast in Washington state. And while the price is good, he's not yet been persuaded to buy the tablet.
"As an owner of iPad, I am not totally convinced to move to or buy an additional tablet," Sood said.
Sood uses the iPad to watch video, read blogs on Flipboard and also while traveling. He has everything on the iPad, and feels the 7-inch form factor is too small for an application like Flipboard to be effective.
"Not sure how Android makes this any better," Sood said.
Beyond the lack of RAM, the device also lacks an micro SD card slot, which limits storage, said Mark Damon Hughes, a developer in Seattle. He own iPads and iPhones and also a Hewlett-Packard TouchPad.
The Nexus 7 also does little to address the many concerns facing Android developers, including a lack of applications, content and ability to earn money from apps.
"There's no money in the Google market, and ads bring in pennies per dollar invested. So there's zero incentive for me to get it and waste valuable time developing for it," Hughes said.
While users who were interviewed agreed that Nexus 7 will not unseat Apple's iPad, they also noted that its hardware is better than Amazon.com's $199 Kindle Fire tablet. But Amazon.com's main business is content and that is where it has an advantage over Google.
"Amazon doesn't have any particular need to catch up to the Nexus, because all of their high-value content will work on the Nexus, and Amazon's business isn't hardware, it's content. Amazon can sell the Fire at a loss and a Nexus sale helps Amazon as much as a Kindle Fire purchase," FarWest's Kratz said.
But considering the price is just $199, the Nexus 7 is attractive to some.
Ned Perkins, a student in Australia, is considering buying Nexus 7 in a couple of weeks, but the device won't replace his iPad 2, which has iOS 6 beta.
The micro SD slot being nonexistent is disappointing, but he's happy with the features in the tablet at the price, and likes the portability of a 7-inch tablet.
"I'm considering buying the 16GB model off the Play store in a couple of weeks as Jelly Bean appears quite smooth and I prefer to keep up with newer technology," Perkins said by email.
Agam Shah covers PCs, tablets, servers, chips and semiconductors for IDG News Service. Follow Agam on Twitter at @agamsh. Agam's e-mail address is agam_shah@idg.com