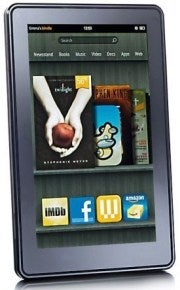 Kindle Fire gossip is almost as common as iPhone and iPad rumors. Lately we've been hearing a lot about a new Kindle Fire tablet, which may arrive as early as next month. The rumored new model will be the successor to the first-generation Fire that debuted less than a year ago, and not a moment too soon–the impressive specs of the just-announced Google Nexus 7 make the original Fire seem pretty dated already.
Want more rumors? Here ya go: Before the end of 2012, Amazon will unveil its first 10-inch color tablet, one likely designed to go head-to-head with Apple's dominant iPad. BGR reports that the planned 10-inch "Hollywood" tablet will be powered by a quad-core processor.
Better Build
Citing anonymous sources, the report says that both the upcoming 7- and 10-inch Kindle Fire models will have a much better build quality that the original 7-inch Fire, which was derided by some critics for its cheap look and mediocre display. The new models, for instance, will feature a metal casing rather than the plastic body found on the first-gen model.
The 10-inch Kindle Fire also adds a front-facing camera, BGR reports, and both models have a microUSB port and an additional jack that may be an HDMI-out port.
It may be too late at this point, but Amazon might consider adding a front-facing camera to its second-gen 7-inch Kindle Fire as well. The Google Nexus 7 has a 1.2-megapixel camera, and it's priced the same as the original Fire at $199.
The latest Kindle Fire rumors sound much more credible than those of late 2011, when Digitimes reported the second-generation Kindle Fire would have an 8.9-inch screen.
Contact Jeff Bertolucci at Today@PCWorld, Twitter (@jbertolucci) or jbertolucci.blogspot.com, and follow Today@PCWorld on Twitter, too.