At a Glance
Expert's Rating
Pros
Inbox analyzer works well
Our Verdict
Designed to streamline email management, The Bat! Professional client fails to deliver.
The Bat! Professional ($45, thirty-day free trial) is an email client that makes it easier to deal with an overloaded inbox, but it is cumbersome to use, especially at first– and that makes it feel like more trouble than it's worth.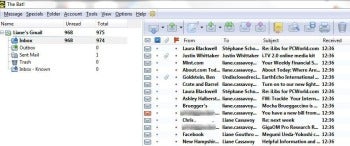 Once you're past the hurdle of getting The Bat Professional up and running, and you're comfortable with its many features, this email client is a serviceable tool. But so, too, are its rivals, like Outlook and Thunderbird. While they may not all offer the inbox management tools that The Bat does, they are more polished, professional-looking email clients.
Installing The Bat isn't the problem. That's rather easy, and adding your email account (it supports POP3, IMAP4, and MAPI accounts) is relatively painless.
Because The Bat Professional is not as widely used as rival email clients like Outlook and Thunderbird, finding the right settings for your account can involve a bit of searching online. After a couple Google queries, I was able to find the right settings for using The Bat! to check my Gmail account, but I did have to rely on unofficial advice from a third party.
Adding my Gmail account was easier than gaining access to its contents via The Bat, though. The Bat!'s interface looks like your average email client, with tabs and panes for viewing accounts, folders, message lists, and message previews. Its icons are a bit simplistic, though, giving it a dated look, and when the icon's function isn't immediately apparent, hovering over it doesn't bring up any text to clue you in. That's why I found using The Bat involved a bit of trial and error, especially when I was getting started.
Viewing the contents of my inbox was challenging. The Bat!'s familiar layout listed the account details in a panel on the left side of the screen, while the right side was broken into two panes, conceivably for viewing a list of messages on top and a message preview on the bottom. But clicking on my account properties never brought up a view of the messages in my account; instead the two panes on the right displayed details of The Bat!'s configuration. A scrolling ticker at the bottom of the screen displayed my messages, making it hard to get an overview of the contents of my account. It wasn't until I closed The Bat and re-opened it that I was able to see a traditional view of my email messages.
The Bat Professional's tools for streamlining your email management were a bit easier to use, but again, they feature something of a learning curve.
The Inbox Analyzer is designed to organize your newsletters and the people with whom you frequently correspond. It does that with folders and filters, and it did a remarkably good job of identifying some folks with whom I frequently trade messages. It did mislabel messages from a few friends and colleagues as "Newsletters," though. I like The Bat's ability to set up labels, folders, and virtual folders (which contain references to messages, not the actual message itself), all of which make filtering and finding the messages you need easier.
The Bat Professional includes tools for streamlining the sending of messages, including postponed sending and macros and Quick Templates, which can be used for inserting pre-prepared text into the body of messages. And, this feature doesn't raise any red flags about spam. The folks at RITLabs say The Bat! is absolutely not a tool for spammers. While there have been reports of some organizations blocking incoming mail from The Bat! because of the threat of spam, RITLabs says this blocking is an error and should be reported to them.
—Liane Cassavoy