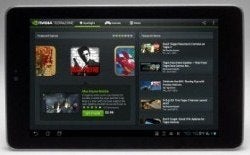 Google's Nexus 7 tablet is the best slate you can buy for $200, but its tight integration with Google Play can't match Amazon's content selection and prices for the competing Kindle Fire. That's the word from a number of early reviews of Google's first Nexus device running Android 4.1, Jelly Bean.
The Google Nexus 7 is also Google's first stab at a homegrown slate and critics say there's a lot to love about this tablet targeting the Kindle Fire, but it comes up short in a few key areas.
The Specs in Review
Google announced the Nexus 7 earlier this week during the company's annual Google I/O developer conference in San Francisco.
The Nexus 7 features a 7-inch display with 1280-by-800 resolution at 216 pixels per inch, a 1.2 GHz quad-core Tegra 3 processor, 12-core GeForce GPU, 1 GB RAM, 8GB or 16GB of storage, 802.11b/g/n Wi-Fi, Bluetooth, GPS, NFC, and a 1.2 megapixel front-facing camera. The Nexus 7 weights about 0.75 pounds and is available for pre-order directly from Google starting at $200.
Buttery Smooth
Google aimed to make Jelly Bean more responsive and smoother than previous versions of Android with an overhaul the company called "Project Butter." The critics agree that Jelly Bean on the Nexus 7 is a vast improvement over previous Android incarnations.
"Applications load quickly and briskly," says Engadget's Tim Stevens. The Verge's Joshua Topolsky says, "3D gaming that was optimized for the Tegra chipset looked stunning and held steady frame rates."
Well Designed, Comfortable to Hold
The Nexus 7 may be a "yet another black tablet in the long line of black tablets," as CNET's Eric Franklin says, but Google's tablet still has a lot going for it on the design front. The feature that critics have been taken with is the leather-like rubber covering on the back of the device.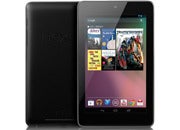 "Yes, is is rubber, but it's very nicely textured," Engadget says. CNET adds that "the inclusion of this seemingly small bit of design panache makes the tablet one of the most comfortable I've ever held." With the rubber backing, Google is apparently trying to mimic "Steve McQueen style" driving gloves, according to The Verge.
Both CNET and Engadget also note that the Nexus 7 is noticeably lighter than the Kindle Fire. On paper, the 0.91-pound Fire is a bit heavier than the Nexus 7, which weighs in at 0.75 pounds.
Great Display
Everybody likes the Nexus 7's 1280-by-800 display, with universal agreement that text is crisp and clear and graphics and images look good.
Topolsky complains that colors look washed out compared to the Galaxy Nexus. But he also says that while the Nexus 7 isn't Retina display quality like the third-generation iPad, it isn't "too far off either."
Bummers
It's got a great screen, zippy responsiveness, and smooth navigation, but reviewers still note some bummers about the Nexus 7. Almost everyone doesn't like the fact that Google supports internal storage only, with no microSD expansion slot — a standard feature on many Android devices. Also heard are complaints about the lack of any HDMI-out functionality to put the Nexus 7's display on a larger screen. The lack of a rear-facing camera is a letdown, and critics are generally unhappy with Google's decision to configure the Nexus 7 homescreen for portrait view only, with no option for landscape mode by turning the device.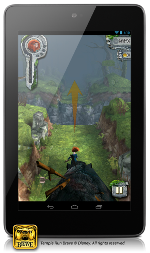 Pundits also debated about the size of the Nexus 7's bezel. CNET says the top and bottom bezels of the device are "uselessly thick." But the Verge says that extra space at the bottom of the device is especially helpful as a grip when reading books.
Finally, while it's great that Google Play is offering so much content now, including TV and movie purchases (formerly Google Play was confined to movie rentals), Play can't match Amazon's vast content. It also appears that Google Play's pricing is a little higher than Amazon's. "We found many magazines to be slightly more expensive here than they are on the Fire," Engadget says. "Music, too, tends to cost a dollar or two more per album than what Amazon offers."
Another big issue for tablets is battery life, and some disagreement occurs here. CNET isn't weighing in on the issue, but Engadget says it got nearly ten hours of battery life running nonstop video and playing Wi-Fi radio. The Verge squeezed out significantly shorter battery life, getting about six hours of constant Web browsing. I guess we'll have to wait and see what PCWorld Labs finds when we test the Nexus 7's battery life.
The battery issue may be unclear, but if you're looking for a budget Android device, the general consensus is the Nexus 7 is the 7-inch tablet to beat.
Connect with Ian Paul (@ianpaul) on Twitter and Google+, and with Today@PCWorld on Twitter for the latest tech news and analysis.