Digital cloud services aren't immune to the impact of real clouds, and that meant some bad news this weekend for the folks at Amazon and sites that rely in its web services.
Severe storms that wiped out power to more than 2 million people across the eastern United States Friday night also took down Netflix, Pinterest, Instagram and other sites due to an outage of Amazon's Elastic Compute Cloud in northern Virginia.
According to Amazon Web Services, at 8:21 p.m. PDT it was "investigating connectivity issues for a number of instances" in the East region. By early Saturday morning, Amazon said it was "continuing to work to recover."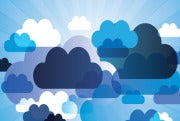 Netflix, Pinterest were back up, but as of early Saturday Instagram was still down.
It's unfortunate timing for Amazon, considering that recently Google announced Compute Engine, its Virtual Machine offering that will directly compete with Amazon and Microsoft, which both offer Infrastructure as a Service.

The outages serve as a good reminder that real clouds and what they bring with them can still take out the digital cloud, which isn't immune from failures and random acts of nature. The storms Friday night caused widespread power outages from Indiana to New Jersey and packed winds that reached 70 mph, toppling three tractor trailers on an Ohio interstate and blowing over trees that killed two people in Virginia.
According to the website Data Center Knowledge, the affected Amazon data center in Ashburn, Virginia, lost power for about 30 minutes, but the fallout from the outage affecting customers is longer lasting as Amazon has to recover virtual machine instances.
And while major data centers like this one have backup generators in case of a power problem, for whatever reason Amazon wasn't able to use it.
This is the second time this month that this particular data center lost power during a utility outage. On June 15, it suffered failures including one involving a generator cooling fan.
Follow Christina on Twitter and Google+ for even more tech news and commentary and follow Today@PCWorld on Twitter, too.