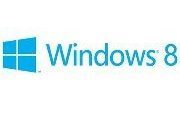 For a limited time, Microsoft will offer upgrades to Windows 8 Pro for a flat $40, as long as you're using Windows XP or later.
The promotion runs through January 31, 2013, and applies to purchases made through Windows.com. A packaged DVD upgrade to Windows 8 Pro will cost $70 during the promotion period.
"We set out to make it as easy as possible for everyone to upgrade to Windows 8," Microsoft's Brandon LeBlanc wrote in a blog post. Users who upgrade can also add Windows Media Center for free, which should help pacify the outrage over Microsoft's decision to charge extra for the software.
The blog post by LeBlanc also clarifies the options users will have if they upgrade:
Windows 7 users can upgrade from any consumer edition and bring along their settings, personal files, and applications.
Windows Vista users can bring along their settings and personal files, but not their applications.
Windows XP users may only keep their personal files.
All users have the option to perform a clean install.
If you buy a Windows 7 PC between now and the launch of Windows 8, you can upgrade for $15 but, at this point, it's best to wait for new hardware.
The low upgrade pricing for Windows 8, even for Windows XP users, is an unprecedented move for Microsoft. Windows 8 is a major overhaul, with a new Metro start screen and the Windows Store for Metro-style apps. Microsoft's future rides on the success of Windows 8, so it's no surprise that the company is using low pricing as a lure.
LeBlanc didn't say how much upgrades will cost after the promotion ends, and Microsoft still hasn't announced when Windows 8 will ship.
Follow Jared on Twitter, Facebook, or Google+ and follow Today@PCWorld on Twitter for even more tech news and commentary.