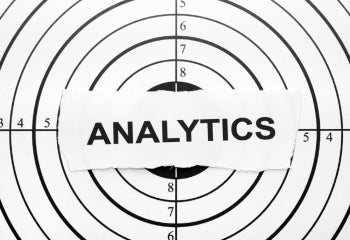 Building a website–whether you're selling products or creating a blog or another information-based site–has always presented a challenge. You have complete control over your content, but virtually no control over who's consuming it. Analytics tools have been part of the Web world for years, but many site owners haven't fully explored them out of fear that they're too difficult to use.
That was true in the 1990s, when the only way to get good data about your website was to use specially designed software to analyze your Web server's log files, but that isn't the case anymore. Thanks to a handful of well-honed Web services, anyone with even a rudimentary understanding of the Web can use a Web-analytics tool to draw deep insights about their site's visitors: Where do they live, when do they come to the site, how long do they spend there, and, critically, how many of them are coming every day?
The Web-analytics market, once vast and fragmented, is now very small. In fact, it has become largely consolidated between two companies: Google and Adobe, who together command about 90 percent of the analytics market (depending on how you count). IBM, Webtrends, and Yahoo all offer analytics tools, but none are major players in the market today. Yahoo recently announced that it would be shutting down its analytics service later this year.
For the purposes of this story, I'll focus on the market leaders, Google Analytics and Adobe SiteCatalyst.
A Word of Caution
Before I dive into the tools themselves, remember: Analytics are just a snapshot of your website at a point in time (or a range of times). It's important not to get sucked into the reports, where you can spend hours every day second-guessing yourself, trying to figure out why one page of content performed well and another performed badly.
Oftentimes this is a fool's errand. There's just too much randomness on the Web, and the power of social media and community-driven news sites such as Reddit can turn a quick late-night blog post into a completely unexpected hit. You can spend years trying to chase down repeats of those posts to re-create the magic, but that rarely works–and you may find that you've exhausted yourself building a lot of the same kinds of content, which no one ends up reading.
Here's a typical (and fanciful) scenario: The owner of a website/blog about animals finds that a picture of a cat sitting on a toy spaceship accounts for 20 percent of the past month's traffic, and StumbleUpon is the major referrer, with most of the traffic coming in a two-day span. The site owner then tracks down 100 more pictures of cats on spaceships, dutifully posting them all, but none of them perform well.
Meanwhile, a deeper analysis of the top 100 posts would have shown that the site's primary content–written advice about pet health, let's say–makes up 50 percent of the past month's traffic, and those posts are evergreen in nature, consistently generating traffic month after month, largely from Google. Long after the cat picture has been forgotten, these posts will continue to thrive. What the site owner should have done was continue to produce these pieces, building up more and more "long-tail" content that search engines–and users–find valuable. That doesn't mean you have to ignore the fluffy "dessert" of the Web–because people always want funny cat pictures–but focusing your site on the meat-and-potatoes items will keep traffic growing and reduce frustration.
The bottom line: Unless you're a veteran, use analytics as a tool to generate broad insights about your business and to tease out long-term traffic trends. Don't focus too much on what happens from day to day. Knowing what happened last Monday is less valuable than knowing what tends to happen every Monday. Always use the longest time horizon you can when examining trends. Locate the points where the trend lines undergo a change (did traffic rise until a certain day, then plummet?) and figure out why it happened.
Analytics can tell you only the who, what, and when…and almost never the why.
Next Page: What the Metrics Mean
What the Metrics Mean
First, let's look at what certain terminology refers to. Here's a glossary to help you understand the key phrases you'll encounter in any analytics tool, and how they relate to one another.
Page views: Each time someone loads a page on your site, it generates a page view, no matter who loads it and how often they load it. It's a crude, but still widely used, measure of a site's traffic.
Visits: This measure evaluates how many users have spent time on the site, regardless of the number of pages each user views.
Unique visitors: As its name suggests, this measure counts only the unique users who visit the site. If a particular visitor comes to the site every day, he or she counts only as a single unique.
Pages/visit: How many pages does each visitor see during a session? Higher numbers are considered better.
Average visit duration: How much time do users spend on the site during each visit? Longer is better.
Bounce rate: What is the percentage of users who view only one page on the site and then leave? Lower is better.
% new visits: This measure is the percentage of your traffic from first-time users who have never been to the site before. Generally, lower is considered better, as it means you're encouraging repeat visits.
Google Analytics
The vast majority of websites that use an analytics tool rely on Google Analytics, for a couple of reasons. First, it's easy to use and understand. Second, it's free if your website has 10 million page views per month or less. (After that it's a hefty $150,000 a year.)
Getting started with Google Analytics is easy. When you register (a standard Google account is all you need), you receive a unique snippet of code that you then place on your website's template so that it appears on each page. Once you've done that, Google collects data every time a visitor's Web browser loads that code.
After Google has collected some data (give it a few days at least), log in to your dashboard to see a default view of your site's traffic metrics over the previous month. You'll find the traffic graph (Visits is the default) up top. Below that, links to demographic and technical data appear, including information about the language of each user.
You'll spend most of your time manipulating the graph at the top. Use the drop-down arrow next to the date to tweak the timeline you're analyzing, and use the Compare to past checkbox to overlay a past period's data. You can swap between viewing Visits, Uniques, and Pageviews (among other metrics) by using the selector beneath the Overview tab.
On the left side of the screen are additional links to more detail, which can be useful. Clicking Demographics > Location will generate a nice map of where your visitors live (don't be surprised if most are in the United States). Try using the chart type buttons beneath the graph to generate a more useful pie chart from this data.
The big draws in the sidebar are the Traffic Sources and Content links. Click Traffic Sources > Sources > All Traffic to see where your users are coming from. Under this header, the Search Engine Optimization > Queries link will give you a sense of the most popular search keywords that have the potential to lead to your site, and what portion of those clicks you're grabbing. The Content > Site Content > All Pages link is where you'll get an idea of what specific pages or products are generating the most traffic. Again, manipulate the timeline to ferret out long-term and short-term trends.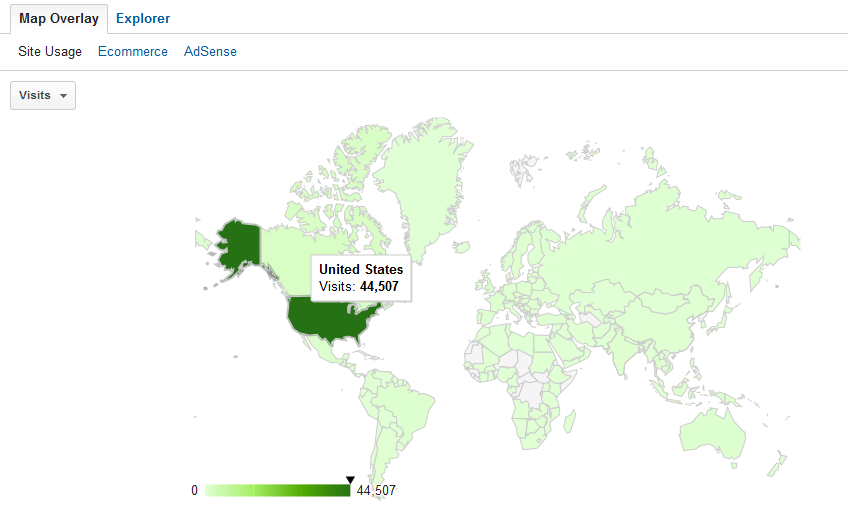 One of Google Analytics' selling points is its ability to connect to your AdWords campaign (so you can track whether your own ads are bringing in visitors). If you run ads on your site, click Content > AdSense > Overview to see which pages on your site are earning the most revenue (and how much). You'll need to link them together in the AdSense tool first.
Want reports sent to you by email? Click the Email button near the top of the page to have the specific report you're viewing sent to you regularly.
Next Page: Adobe SiteCatalyst and Alexa
Adobe SiteCatalyst
SiteCatalyst, once an independent product, became part of Adobe in 2009, and Adobe continues to update it regularly. SiteCatalyst is an exhaustive and in-depth tool, and it's widely considered to be the upscale version of Google Analytics, suitable for deep dives when Google fails to get the job done. Many companies use both tools.
Pricing is individualized based on each business and its traffic; Adobe refused to give us any details other than that. Anecdotal commentary on the Web suggests that you should expect to pay six figures for a basic version of the service, which puts it within reach for only very large Web-centric businesses.
SiteCatalyst provides more options than Google Analytics, and it can look complicated at first glance. The basics are easy to find, though. Just use the left sidebar to hit the highlights. Your traffic graph is available under Site Metrics, and your top pages are under Site Content > Pages Reports.
SiteCatalyst excels at reporting on the finer points of a campaign, including deep mobile stats, video plays on your site, and a breakdown of your search traffic, including whether it's paid or organic. You can easily get lost in all these reports, so be sure to take advantage of the email function (using the row of icons in the toolbar) to have them sent to you on a regular schedule.
Alexa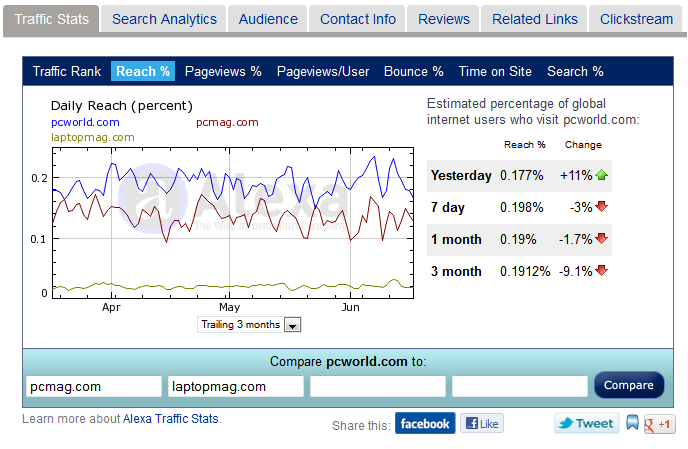 Finally, a few words about Alexa, which is now part of Amazon.com. Alexa is a free traffic-measurement tool that has both a major advantage and a notable disadvantage. The disadvantage is that the numbers are rarely very accurate because they're largely based on traffic reported by a free browser toolbar that few Web users have installed. The advantage is that Alexa makes all of its data available publicly, so you can use it to get a crude sense of how popular your site is relative to the competition–something that's impossible with a standard analytics tool. Use this information to get a rough look at how you're faring against rivals, but don't put too much weight on the figures.
Updated 7/9 to reflect the current branding of Adobe SiteCatalyst.