At a Glance
Expert's Rating
Pros
Runs Android Ice Cream Sandwich with NFC support
Crisp, clear display
Powerful quad-core processor
Cons
Camera isn't as good as competitors'
Build feels a bit cheap
Optimus 3.0 UI is a bit clunky
Our Verdict
The LG Optimus 4X HD is a very powerful phone, but the software and camera are lacking.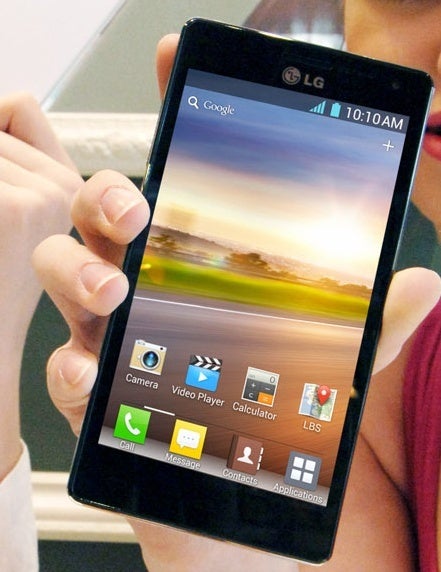 The LG Optimus 4X HD ($560 unlocked; price as of 7/5/12) is LG's first foray into the quad-core world. Announced some four months ago at the Mobile World Congress, the 4X HD is powered by an Nvidia Tegra 3 processor, but that's not its only highlight. It also has a 4.7-inch display with a 1280-pixel-by-720-pixel resolution. The Optimus 4X HD is currently available in Europe and will arrive in Asia, South and Central America, and Russia in coming months. So far, LG hasn't announced any North American availability for the 4X HD. LG's Android phones haven't been wildly successful here in the United States, but this model has what it takes to make a splash in this country.
Design and Display
The Optimus 4X HD is superthin at 0.35 inch; however, it isn't going to win any awards in the beauty department with its sterile look, rigid rectangular shape, and textured plastic battery cover. We received a white version for review; it's much more attractive than the black version I saw at the Mobile World Congress.
The 4X HD has what LG is calling a "True HD IPS" display. Blacks look very deep, colors vivid, and whites bright. The screen does suffer from oversaturation, though, as our color-bar and grayscale tests showed. In our color-bar test, colors bled into each other; in the grayscale test, we had trouble differentiating the light-to-dark shades from one another. We've found oversaturation to be a fairly common problem across multiple phones. But saturation isn't always a bad thing. We've already mentioned the good colors. Details usually were also quite sharp in photos, but text rendering wasn't perfect. Sometimes text looked a bit pixelated and fuzzy when viewing certain websites. But for gaming, video-watching, and casual Web browsing, the Optimus's display is excellent.
Performance
As mentioned earlier, the Optimus 4X HD is LG's first quad-core phone running Nvidia's Tegra 3 processor. This processor actually has a smaller fifth core to help phones conserve battery life. The fifth core handles less-demanding tasks such as active standby and music playback. The PCWorld Test Center ran a series of benchmarks on the Optimus 4X HD including the Geekbench, Andebench and Sunspider benchmarks. The 4X HD outperformed its rivals, the Galaxy S III and the HTC EVO 4G LTE, in both Geekbench and Andebench by a significant amount. It placed last—but just barely—with the Sunspider benchmark, which measures Javascript performance in seconds.
Debate rages over wheter quad-core processors are needed on mobile phones. Some argue that too few apps are optimized for a processor that powerful. Others argue that quad-core isn't necessary on such a small device. But one area where the power of quad-core is abundantly clear is in gaming. I ran a few graphics-heavy games on the 4X HD, like ShadowGun, World of Goo, and Osmos HD. The games played smoothly and looked terrific on the 4X HD's display. When it comes to mobile gaming—especially games with 3D graphics—Tegra 3 phones have an advantage.
The PCWorld Test Center measured the 4X HD's battery performance by playing a video at full brightness with the audio set at maximum volume. The video file is a high-definition video that plays at 720p continuously in a loop until the battery gives out, at which point the total battery life is logged by either our automated timer application (on Android tablets) or one of our trusty testers standing by with stopwatch in hand. After two passes, the Optimus 4X had an average battery life of 6 hours, 28 minutes. The Galaxy S III had longer battery life by just over an hour (7 hours, 30 minutes), while the HTC EVO 4G LTE ran about a half hour longer than the 4X HD (7 hours, 4 minutes).
Software
The Optimus 4X HD runs the Android Ice Cream Sandwich operating system with an LG-branded user interface running over it, an interface aptly called Optimus UI 3.0. One of its features is QuickMemo, which lets you take notes with your finger. Sadly, this feature was nowhere to be found on our review unit, but LG says that all Optimus 4X HD phones will ship with the app.
I'll admit that I'm not a fan of these manufacturer-built Android user interfaces. I think Android 4.0 is clean, attractive and polished—and doesn't need anything extra added to it. But as much as tech reviewers and consumers complain, manufacturers are going to continue to slap their overlays over Android in order to differentiate their phones from the competition.
The 4X HD also comes with built-in NFC (near-field communications) for making mobile payments. You can use Android Beam, which is built into Android 4.0, to transfer photos, contacts, Web pages, and more to another NFC-equipped Android 4.0 phone.
Camera
Like every other high-end Android phone, the Optimus 4X HD has an 8-megapixel backside-illuminated sensor. In my own hands-on tests, the Optimus 4X took okay photos indoors and good photos outdoors. I took a few snapshots on a sunny day in San Francisco and was impressed with their clarity and color. Indoor photos had a strange, yellowish cast to them. I also noticed a little graininess in some of my shots (click on our still-life test photo, at left, to enlarge) and a lack of sharpness. The cameras on the HTC One X and the Samsung Galaxy S III are much better than that of the LG Optimus 4X HD.
Bottom Line
Sometimes it is hard to not be envious of our neighbors overseas–they seem to get all the cool phones. Here in the United States, we're still waiting for at least one quad-core phone to make its way over here. The LG Optimus 4X HD demonstrates the power of a quad-core processor, particularly in gaming. It also has a gorgeous display and the latest available version of Android to boot. The camera isn't as good as the HTC One phones or the Samsung Galaxy S III, however, and I wish LG had left Android 4.0 alone. But overall, the LG Optimus 4X HD has what it takes to compete with other top-of-the-line Android phones, and I hope that LG brings a version to the United States.