At a Glance
Expert's Rating
Pros
Liquid cooling and hot-swap drive bay
Killer general performance and pretty good gaming
Cons
No FireWire or eSATA
Case isn't all that pretty (but offers much)
Our Verdict
Raw speeds and strong features make the 37B a great budget desktop.
Once you get beyond its odd looks, you'll discover that the $1299 (as configured) Micro Express MicroFlex 37B is a beast of a machine that combines high speeds, good gaming, and fairly ample connectivity. But you'll either love or hate the chassis that this budget desktop PC arrives in.
Under the Hood
The MicroFlex 37B runs a 3.5GHz Intel Core i7-3770K CPU–the top-shelf Ivy Bridge processor, featuring four physical cores, eight virtual cores, and the ability to Turbo Boost up to 3.9GHz as needed–supplemented by 16GB of memory and the wicked-fast combination of a 128GB Intel SSD 520 solid-state drive for booting and a 1TB hard-disk drive for data storage.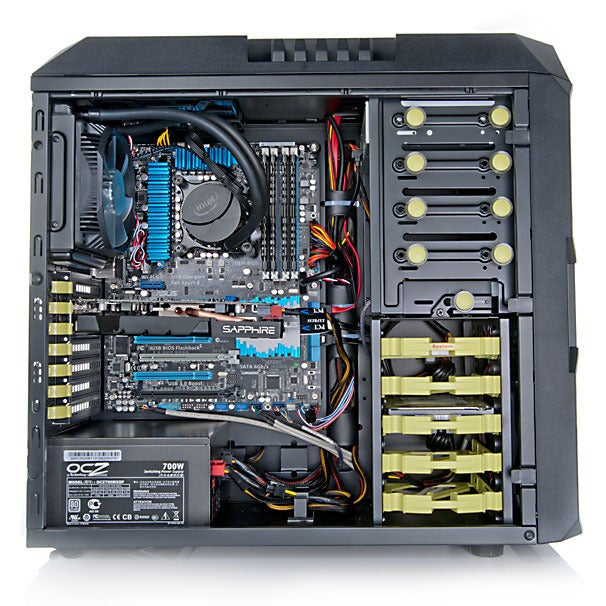 This powerful combination of components delivered high marks on PCWorld's benchmarks, zipping to an overall score of 172 on our WorldBench 7 test suite. By way of comparison, the HP Pavilion HPE h9-1120t Phoenix costs more ($1689) and delivered substantially lower general performance (with a score of 121 on WorldBench 7).
As a gaming machine, the MicroFlex 37B holds its own. The system's Radeon HD 7850 graphics board sustained an average frame rate of 24.6 frames per second on PCWorld's most painful Crysis 2 benchmarks (at 2560-by-1600-pixel resolution, and ultra quality). If you're not rocking a 30-inch panel, you can enjoy the system's average of 66.5 fps at more reasonable settings of 1920-by-1080-pixel resolution, and high quality. The system's overall gaming score of 91 was only slightly better than the HP system's mark–but that rates as another win for Micro Express in price-to-performance ratio.
Overall, the MicroFlex 37B's performance puts the desktop between the Asus Essentio CM6870 and the HP Pavilion HPE h9-1120t–but then, so does its price.
Eye of the Beholder
The system's unusual chassis is packed with features. A Blu-ray combo drive with read and write capabilities rests below an oversize logo on the case's front. Push-lock panels conceal the system's multiformat card reader, a USB port, and the filter for the system's front fan. Two additional USB ports occupy the space between these two sections, and two USB 3.0 ports lie concealed behind a small rubber flap on the system's top. Also at the top are push-panel access to fan filters and the case's most noteworthy feature: a hot-swap tray for a hard drive.
The system's internal components are completely screwless for all of the upgrades and modifications that you might make to the rig. Micro Express includes space for three additional 5.25-inch devices, two 3.5-inch hard drives, and one 2.5-inch hard drive, as well ample room for expansion cards, thanks to the included free PCI Express x1 slot, two free PCI Express x16 slots, and two free legacy 32-bit PCI slots. Micro Express does a better than average job at concealing the MicroFlex 37B's internal wiring–a feat made even more important by the system's use of a self-contained liquid-cooling loop, co-developed by Intel and Asetek.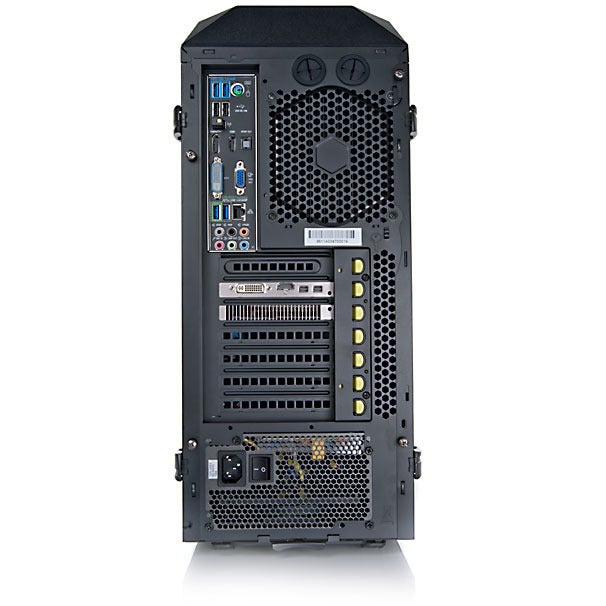 The system's connectivity options are impressive: four USB 3.0 ports, two USB 2.0 ports, one DisplayPort connection, one HDMI connection, a SPDIF optical port, integrated 7.1 surround sound, and connections for both a DVI and a VGA device via the system's motherboard. The graphics board comes with a single DVI and HDMI connection, and two ports for Mini-DisplayPort devices. The only thing missing is support for FireWire and eSATA. For networking, the MicroFlex 37B throws in both wired and wireless networking capabilities, in the form of a single port for gigabit wired connections and a dongle for Wireless-N connectivity, an excellent one-two combination.
Though the system (as reviewed) didn't ship with a mouse or a keyboard, potential purchasers can configure their systems with various options for either item at Micro Express's website.
Overall, there's little to dislike about Micro Express's MicroFlex 37B. Its storage could be a little roomier, its gaming capabilities a little stronger, and its connectivity a little more fleshed out; but these are minor quibbles, not major criticisms. In general, the 37B is a speedy, attractively priced system that can handle practically anything a typical user might throw at it, and it comes with plenty of "surprise and delight" extras that normally don't appear on budget desktops.