Archos Thursday announced the Archos 97 Carbon, which is the first member of the company's new Elements line of entry-level Android tablets. As the name suggests, the Archos 97 Carbon is a 9.7-inch tablet, and is priced at just $250.
For a fairly inexpensive tablet, the Archos 97 Carbon sports some nice features–most notably the Android 4.0 (Ice Cream Sandwich) operating system. While there are other bargain-priced ICS tablets available–including one that debuted in China for under $100–they're usually smaller devices. Google's newly-announced Nexus 7 costs just $199, for example, but its screen is only 7 inches.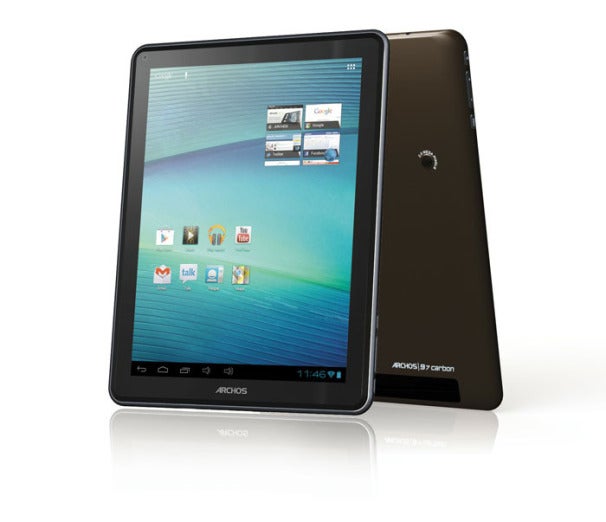 The Archos 97 Carbon's display has a resolution of 1024 by 768 pixels, and utilizes IPS (In-Plane Switching) technology for better image contrast, richer colors, and wider viewing angles. The tablet is 0.45 inches thick and weighs 1.36 pounds–a little thicker, but lighter, than the new iPad, which measures 0.37 inches thick and weighs 1.44 pounds. The Archos 97 Carbon is a fairly attractive tablet, with a brushed aluminum finish on the back.
The tablet features a microSD slot and USB ports, which should be useful if you need to expand storage capacity beyond the 16GB of internal memory provided. There's also a mini-HDMI out port, so you can plug the Archos 97 Carbon into your HDTV to put your games or videos on the big screen.
Other features include a front and back camera, 1GB of RAM, full access to Google Play for Android apps, and the Office Suite Viewer preloaded for opening office docs.
At this price, Archos did have to cut some corners. The single-core 1GHz processor is a disappointment, considering most new tablets have dual- or quad-core processors. The Archos 101 g9, a 10-inch Android ICS tablet, at least has a 1.5GHz dual-core processor, but it comes with a $390 price tag and is significantly bulkier and heavier (0.61 inches thick and 1.73 pounds heavy).
If your budget is more important to you than the processor speed, you'll be able to pick up the Archos 97 Carbon this month. Archos promises to release (presumably cheaper) 7- and 8-inch Elements tablets soon.
Follow Melanie Pinola (@melaniepinola) and Today@PCWorld on Twitter