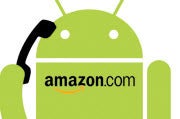 We may still see a so-called "Kindle Phone" from Amazon before 2012 is out, according to a new report.
Talk of an Amazon phone has been circulating for some time, ever since the online retailer began selling smartphone apps for Android phones in early 2011. Citigroup analyst Mark Mahaney followed this in November with a claim based on checks with component suppliers in Asia that Amazon would produce a smartphone. Now, Bloomberg on Friday added to the "Kindle Phone" speculation with a report that Amazon is working with hardware maker Foxconn to create a new handset.
The latest report from Bloomberg is short on details about what Amazon's purported Kindle Phone would look like. Previous claims said the device would run a Texas Instruments OMAP 4 ARM-based processor and be priced around $200. It's unclear what display size would be on the rumored Kindle Phone.
Kindle Smartphone: Content King
The notion that Amazon would move into the smartphone business can hardly be considered a surprise. Amazon already has many of the pieces in place to offer a handset with a supporting app and entertainment content ecosystem. The online retailer has a wide selection of movie and television episodes available for rent or purchase, a massive e-book selection, and, of course, apps through the Appstore for Android. Add to that mix Amazon's popular Prime membership that offers discounted shipping rates on Amazon.com purchases, free e-book loans, and free TV and movie streaming, and it's pretty clear the only thing Amazon is missing is a handset.
The recent Bloomberg report doesn't mention what operating system the device would run. Presumably, Amazon would adopt the same strategy with a phone it took with the Kindle Fire tablet. That is, take an open source version of Google's Android mobile OS and redesign it to fit Amazon's needs. The Kindle Fire firmware is based on a version of Android 2.3 (Gingerbread). Google in November released the source code for Android 4.0 Ice Cream Sandwich, so perhaps an Amazon phone would use this newer version of Android.
Forked Android Smartphone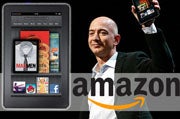 If Amazon does offer a phone, the company will have to differentiate itself from the legions of Android phones, upcoming Windows Phones, and the iPhone. An Amazon phone may also have to contend with cheaply priced devices running Firefox OS, and perhaps new BlackBerry devices. One way Amazon could offer something unique is to again copy the Kindle Fire strategy and offer a Kindle phone that is simply an easy-to-use buying machine for Amazon content.
The problem, however, is that a phone is not as ideal for content consumption as a 7-inch tablet like the Fire. So another option would be for Amazon to offer unlocked and contract-free devices that could run on any compatible network. But for this to work in the U.S., where a rumored Kindle Phone would be virtually guaranteed to launch first, Amazon would have to offer cheap devices.
Few American mobile subscribers are interested in forking over upwards of $500 to $700 for a smartphone that will be outdated in less than three years, as Google found out with the Nexus One. But if Mahaney's claim from November is correct, and Amazon plans on selling its device around $200, that just might be the right price point to start a contract-free revolution among U.S. smartphone users.
In addition to creating its own smartphone, Amazon is reportedly looking to buy up available wireless patents to protect itself from competitor lawsuits, a common practice among smartphone vendors.
Connect with Ian Paul (@ianpaul) on Twitter and Google+, and with Today@PCWorld on Twitter for the latest tech news and analysis.