At a Glance
Expert's Rating
Pros
Easy to use
Many features
easy to use; many features
Cons
slows down browsing slightly
Our Verdict
Cocoon lets you browse the Web privately and securely.
The Web is a scary place. Between the advertisers looking to follow your every move, hackers eyeing your passwords, and viruses threatening to ruin your PC, it's enough to make you swear off surfing forever. Or, you could just download Cocoon, a browser add-on for Internet Explorer and Firefox that helps you browse the Web. Cocoon is available in two versions: the free (but ad-supported) standard Cocoon and the $5 per month (or $48 per year) Cocoon+, which is ad-free and offers password storage in addition to the cadre of privacy and security features found in the standard version.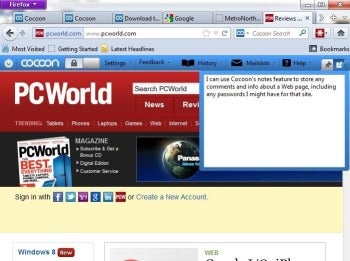 To use the cloud-based service, you sign up for an account and then install the add-on to your browser of choice. (If you're using an iOS device, you also can download a free Cocoon app from Apple's App Store.) Once installed, Cocoon appears as a slim toolbar in your browser. Click its power button to turn it on, login, and you're good to go. When Cocoon is turned on, all of your browsing is done privately.
Cocoon uses a proxy service, so that all of your browsing is done through Cocoon's servers — Web sites see their information instead of your IP address or ISP. The trade-off for using a proxy server is, of course, a slowdown in your browsing speed. And browsing the Web while using Cocoon is noticeably slower than doing so without it, but it was not enough to turn me off from the service.
But that's just the tip of Cocoon's privacy and security iceberg. The service also encrypts your browsing history and personal information, which is especially useful if you're surfing over a public Wi-Fi connection. Cocoon also includes built-in antivirus protection, as it scans all of your downloads before allowing them to reach your computer. You can delete your browsing history and any cookies.
Cocoon+ includes a notes feature that doubles as a password manager. If you want to store a Web password, you can create a secure note for that site, and use it to store your password. This solution is not as elegant as using a dedicated password manager like the excellent LastPass, but luckily, you can use LastPass while browsing with Cocoon.
More impressive are two of Cocoon's privacy features. Mailslots is a feature that allows you to create a disposable email address when you need one to sign up for an online service or make a purchase online. Rather than entering your real emailaddress, and potentially subjecting yourself to spam, the Mailslots feature will create an email address for you, which you can save in your Cocoon account for as long as you need. Equally useful is a feature that allows you to block Facebook tracking, so that your online activities cannot be reported back to the social network after your sign out.
You could get many of Cocoon's features by installing several different applications and utilities. But why bother? Cocoon offers so much in one easy-to-use package. Its password manager could be a bit more elegant, but that's a minor complaint compared to the rest of the features it offers.
—Liane Cassavoy