At a Glance
Expert's Rating
Pros
Easy to use
Limited offline options
Our Verdict
SkyDox Business Edition offers a host of easy-to-use tools for file sharing and collaboration.
SkyDox, a primarily cloud-based service, offers file sharing and collaboration in an easy-to-use format–and it won't break the bank either. That's a rare combination that makes the thirty-day free trial of this $15/month product worth taking a look at.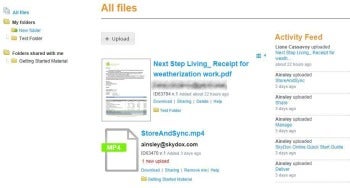 Log in to your account and you'll be taken to your neatly organized SkyDox homepage. Its layout features three primary columns: on the left are the folders and sub-folders used to organize your files, in the center is a list of the files you've uploaded or had shared with you, and on the right is an activity feed, showing the users who have viewed or shared files with you, and what changes they've made. Getting started is a breeze, and it's easy to understand the purpose behind all of the icons on the page. To upload a file, you simply click the "Upload" button at the top of the page, while clicking the "New folder" icon in the folder structure lets you quickly add a folder or subfolder.
Once a file has been uploaded to SkyDox or a folder has been created, you can share it within SkyDox and externally. SkyDox offers plenty of sharing options, including the ability to share it with individuals and groups. You can create a context, which is a group of users who can see the file, and can comment on it and make changes. SkyDox lets you create multiple contexts for each file, which will allow you to keep comments and viewing stats separate for each group. This is useful if you'd like a team of employees and managers to comment on the same file, but want to keep the comments of management private from those of other users.
If you'd like to share it with someone who does not use SkyDox, they can create a free Guest login to view the file or folder, and make changes (where permitted) to it. Registered users will have a bit more freedom with the shared documents, as they'll be able to view and download previous versions of the file once it's been edited.
Once a file has been shared, the user can view it from within their browser window, download it as a PDF, or download it in its original format (as long as you've granted them permission to do so). Viewing the file in the browser window offers access to SkyDox's collaboration tools. The right-hand side of the page shows you who has access to the document, who has viewed it, and any comments they've made.
SkyDox is working on adding offline access to its platform. Right now, the company offers downloadable plugins for the 2007 and 2010 versions of Microsoft Word, Excel, and Powerpoint. These let you save files right to SkyDox from within the application. SkyDox also is working on an application called SkyDox Desktop (currently available in a beta for Windows, Mac and Linux systems), that will allow users to work and store documents locally, while syncing them with the cloud.
If you simply need to share files with colleagues and clients, SkyDox–with its impressive range of file-sharing and collaboration tools–will likely be overkill. But if you're looking for a way to make teamwork more appealing and easier, SkyDox is for you. Although it's packed with features, it's never difficult to use.
Note: The Download button takes you to the vendor's site, where you can download the latest version of the software.
—Liane Cassavoy