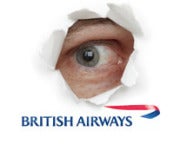 We've all Googled ourselves from time to time, but British Airways has crossed the creepy line for looking up its own passengers on Google Image Search.
The airline is rolling out a new program, called "Know Me," that tries to improve passenger recognition through Google search and other methods. British Airways will create "dossiers" on passengers, and will use the profile data to offer 4500 "personal recognition messages" by the end of the year, the London Evening Standard reports.
For instance, flight attendants may reference Google image results to greet a high-profile, first class passenger when he or she boards the plane. British Airways will also dig into its own passenger data, so if a regular customer experienced a delay on a previous flight, airline staff can offer a personal apology.
Not surprisingly, some privacy advocates are upset. "Since when has buying a flight ticket meant giving your airline permission to start hunting for information about you on the Internet?" Nick Pickles, director of Big Brother Watch, told the Standard.
Righteous Indignation?
I'd love to get righteously indignant about this, but first let's keep a couple things in mind: British Airways is only Googling passengers who are somewhat well-known, and only for the purpose of recognition. (Pickles' claim about "hunting for information about you" is a bit overblown.) As for apologizing for a delayed flight, that's just good customer service.
Still, there are problems with the way British Airways is doing this. Some customers just don't want to be bothered — especially famous ones — so it's presumptuous for the airline to think no one will mind being stalked on Google for the purpose of a greeting.
A better way might be to let people opt in to such a service through Facebook or Twitter. That way, the information would be more reliable and less creepy, and would only affect willing participants.
Using Google for image search is also a slippery slope that could lead to broader Internet data mining. Of course, advertisers already do this through tracking cookies, but it's much creepier to have your browsing habits come back to you in the real world than in a targeted online ad.
British Airways should draw the line at image recognition, and think of smarter ways to provide personalized service that doesn't revolve around Internet stalking.
Follow Jared on Twitter, Facebook, or Google+ and follow Today@PCWorld on Twitter for even more tech news and commentary.