Windows 8 will soon be here, and if you plan to set up a system to be shared by more than one person, you'll want to know how to add and manage user accounts. As with many aspects of the Windows operating system, things have changed in Windows 8, and you'll have to learn how to get around in the new OS.
In Windows 7 and other prior versions of Windows, you'd simply click on Start, open up the Control Panel, and select the option to manage the user accounts. In Windows 8, though, there is no Start button, and there's also no direct way to get to the Control Panel.
So, how do you handle user accounts in Windows 8? You can add a new user from the Metro interface by swiping from the right side of the display to open the Charms bar, and choosing Settings. By default, Windows 8 only shows a handful of the settings choices, so you have to click (or tap) on the link at the bottom labeled "Change PC settings".
Once you get to the Metro PC Settings, you will see Users listed as the second option on the list in the left pane. After you tap Users, you will see details of your own account on the right, and you will see a plus-sign button at the bottom with the text "Add a user".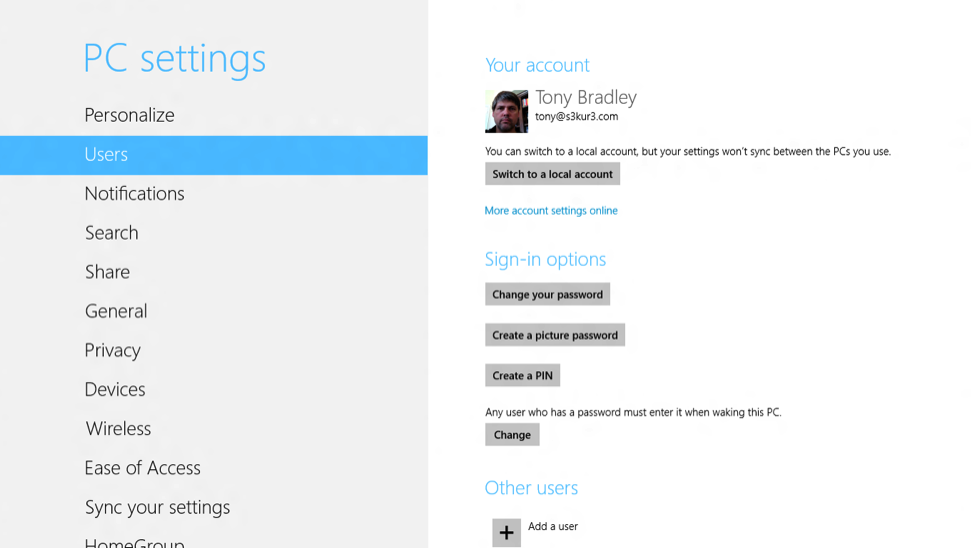 Microsoft encourages users to link their Windows account with an online Microsoft account. Doing so enables you to download apps from the Windows Store, sync settings like browser favorites and history, and access online content automatically. It provides a more consistent, seamless experience from one Windows device to the next.
You can enter an email address associated with a Microsoft account to set up the user account. There are also options at the bottom to either create a new email address to associate if you don't already have one, or to sign in without using a Microsoft account–otherwise known as a Local account.
If you use a Microsoft account, the Windows account credentials will be the same as those of the Microsoft account. If you choose a Local account you will have to assign a username and password. The final step gives you an option to designate the account as a child's account and configure parental controls for it. Then, just click Finish and your new account is all set up.
This is where things get a little tricky, though. If you go back to the Metro PC Settings and tap on Users you will still see your own account information displayed at the top of the right pane. At the bottom of the right pane is a section called Other Users, which lists the other accounts available on the system. However, all of the accounts are grayed out and you can't actually view or manage them at all–even if you're logged in as an Administrator.
So, what do you do if you need to assign or change the password on a user account? How do you delete a user account you don't need any more? What do you do if you decide after the fact to implement parental controls on an account?
Behind the Metro façade, the old-fashioned user account controls still exist just as you remember them. You just have to know how to find them. There are a few ways to get to the Desktop mode Control Panel, but the easiest is to swipe from the right side of the Metro display to bring up the Charms, and tap the Search charm at the top. Just search for "Control Panel", and it will appear as the top choice in the results.
Now, you can click on the User Accounts and Family Safety group, and access options to set up Family Safety controls for a user, change the account type, or even delete a user account.
It's not a very elegant solution for managing user accounts. The process for adding a user account seems simple and intuitive enough. But, Microsoft should also provide tools to let you modify account profiles, change passwords, or delete accounts from the Metro app.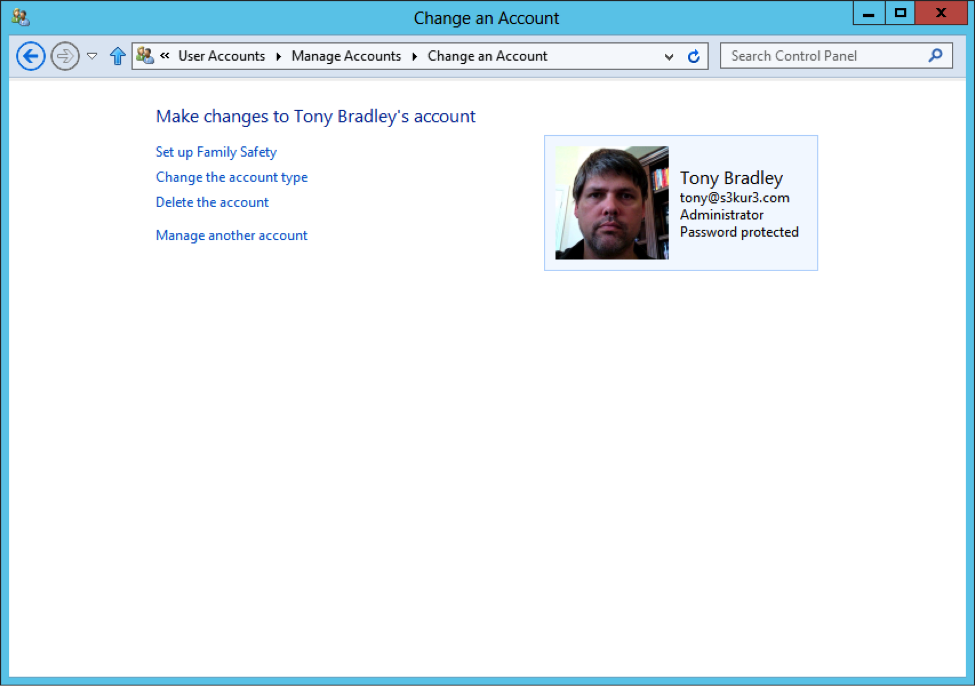 The legacy Control Panel is familiar, but being forced to use it makes Windows 8 feel like it's just Windows 7 with a Metro interface duct taped on the front. And, if Microsoft expects the legacy Control Panel to continue being a focal point of managing the Windows system it should provide more direct access to it rather than forcing users to jump through hoops to find it.
As a side note, you should also know that the default Administrator account installed with Windows 8 does not have a password assigned. Anyone can sign you out or change user accounts to log in as Administrator and have complete access to the Windows system. Your first stop after installing Windows 8 should be to go to the Control Panel and assign a password for the Administrator account.