GoGators complained to the Answer Line forum about his hacked Twitter account.
If you appear to be sending tweets and/or direct messages that you haven't actually sent, your Twitter account has been hacked. Here's what you need to do:
First, try to log onto Twitter. If you succeed, change your password immediately. Here's how: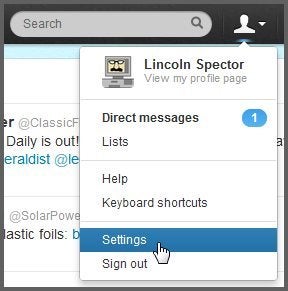 Near the top-right corner of the Twitter page, click the little person silhouette icon to the right of the Search field and select Settings. Click the Password link in the left pane. Enter your current password, then enter a new password twice before clicking Save changes.
And make that new password a strong password.
After you've successfully made that change, check your applications: While you're still in settings, click Apps in the left pane. Scroll down the list. If you see anything you don't trust, click the Revoke access button.
Speaking of apps, changing your password may block some of the apps that you want to keep. Be aware that you may have to enter the new password in a few other places in the near future (and be careful about them).
Once you're done, delete the tweets you didn't create.
If, on the other hand, you can't log in and change your password, visit the service's My Account is Compromised page.
Read the original forum discussion.
Contributing Editor Lincoln Spector writes about technology and cinema. Email your tech questions to him at answer@pcworld.com, or post them to a community of helpful folks on the PCW Answer Line forum. Follow Lincoln on Twitter, or subscribe to the Answer Line newsletter, e-mailed weekly.