At a Glance
Expert's Rating
Pros
Clean design with split screen
Video downloading
Cons
Not especially compelling
Our Verdict
This alternative Web browser is extremely customizable; it offers many customizations and plugins.
Maxthon 3.4 is an alternative Web browser, one of many fighting for the small slice of the pie not claimed by Firefox, IE, and Google Chrome. It's free, has a trendily minimalist interface, and has several features built-in that must be implemented by plugins in other browsers.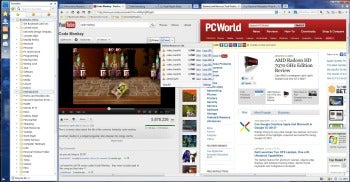 Clearing the basics out of the way first: Maxthon is a browser. The primary rendering engine (Webkit) is fast, and using it for normal browsing over several days showed no cases where a page rendered properly in another browser, but not in Maxthon. This may be due to dual rendering engines, a feature Maxthon has had for about a year. If Maxthon detects a page that won't render correctly in Webkit, it transparently switches to the Trident engine. If you've used any major browser in the past half-decade, Maxthon will be familiar to you, and there's only a handful of minor points where you might need to spend a few seconds trying to do something (for example, it took me a bit to notice that private browsing was an option hiding behind the blue smiley face that substitutes for a menu bar).
There are plenty of good things about Maxthon. There are a number of features built-in which require add-ons in other browsers: An ad blocker, a content scraper/downloader, and a screen splitter, for example. Private browsing occurs by opening a second window, which can then be filled with private tabs. This isn't as convenient as Opera's mixing of private and non-private tabs, but it's better than Firefox's purely modal method. The "Favorites" bar (when did we stop calling them bookmarks?) includes a "Most Favorite" tab and an automatically-filled "Most Visited" tab. Also, there's a "Mute" button, ideal for when a website begins unexpectedly blaring at you.
Some things are less than perfect. Maxthon's video downloader doesn't work currently in YouTube, though the developers claim a fix is forthcoming soon. (The MyDownloader plug-in in Firefox still works fine.) While it may be a minor point, I like a standard, across-the-top menu bar, and there's no option to display one.
Would I use Maxthon as my primary browser? Sure. It gets the job done and it has many small convenience features. The real problem, for Maxthon and many other small browsers, is that while it works fine, so do the "big boys," and they have more options and support. Maxthon is clean, fast, functional, and competent, but it's not extraordinary. The add-on ecosystem is the real issue; if I have the choice, I'm not giving up Firefox extensions Ghostery and Local Website Archive Lite, to name a few.
Maxthon is free, so there's no risk in trying it out. The built-in functionality helps avoid the bloat of add-ins and reduces the chances that the seemingly-daily Firefox version update will undermine a tool you rely on. It's certainly worth a look.
–Ian Harac