At a Glance
Expert's Rating
Pros
Creates file-sharing network for free
Cons
Free version supports only five PCs
Our Verdict
Free for up to five users, the Hamachi hosted VPN service offers all the features that most people need.
If you're looking for a VPN (virtual private network) that's easy to use and requires no hardware, LogMeIn Hamachi is definitely worth a look. It's hosted–LogMeIn handles all the traffic control and network chores via its own Internet portal/service–and it works well for up to five PCs.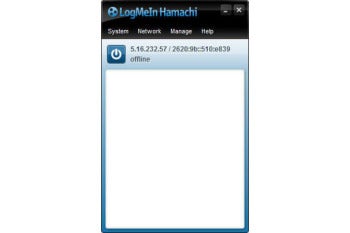 Setting up Hamachi for a simple peer-to-peer VPN is a breeze. Run the install procedure, create a network and password, and you're off to the races. You may also use or create a LogMeIn account to set up and manage networks. After you've created a network, up to five users may install the client and join the network with the supplied network ID. In a minute or two, the shared folders from other PCs on your Hamachi network will appear in Windows Explorer. You'll also find software for backing up PCs on the network.
Hamachi operates in three modes: Mesh, in which every PC can see the shared files on every other PC; Hub and Spoke, in which only certain PCs are available to everyone; and Gateway, in which one PC serves as an entry point to shared resources on an entire local network (including anything shared on NAS boxes, servers, and the like). The last one proved very difficult to set up, primarily because of the singularly unintuitive method for defining which PC will be the gateway. I also noticed that the Hamachi client's menus didn't redraw properly on my testbed. I had to roll over them twice for the text to show up.
LogMeIn Hamachi offers a great way to share files securely among computers, local and remote, without requiring a lot of IT-type knowledge. It's free and it's simple to install, and it does the job nicely. Be sure to take a look at LogMeIn Hamachi before you plop down money for VPN hardware. If you have more than five users, consider the paid yearly options, which are priced at $19 for up to 32 members and $119 for up to 256 members.
Note: The Download button takes you to the vendor's site, where you can download the latest version of the software.