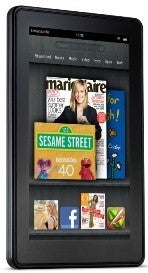 Amazon is preparing for a serious fight to keep its second place in the tablet market, and one weapon is a refreshed Kindle Fire expected to appear later this year. Fending off Apple's iPad and Google's new 7-inch Nexus 7 tablet, Amazon will make a bunch of much-needed improvements to its tablet, reports All Things D, quoting unnamed sources.
If those sources prove knowledgeable, then the new Amazon Kindle Fire, anticipated in the third quarter (around the same time the rumor mill expects an iPad Mini from Apple) will be thinner and lighter than the current Kindle Fire and have a built-in camera and an improved display.
The display is said to have a higher resolution than the current 1024-by-600-pixel screen of the current Kindle Fire. The refresh is said to have a 1280-by-800-pixel resolution screen instead – the same as the Nexus 7 – which will give the display 216-pixel-per-inch density, showing clearer photos and sharper text. The new resolution means the screen will have a slightly different aspect ratio, from 1.71 to 1.60.
When it first created the Kindle Fire, Amazon picked the hardware "off the shelf," resulting in strong visual similarities with Research In Motion's BlackBerry PlayBook. The second iteration of the device is said to add a camera — probably just front-facing, like the Nexus 7 — as well as having a thinner and lighter profile. It's safe to assume the new Kindle Fire would also feature a better processor and graphics.
Can It Compete With the Mythical iPad Mini?
If Apple indeed comes out with a smaller iPad later this year (several reasons indicate it won't) then Amazon will have a hard time keeping the Fire afloat, especially if the iPad Mini price is very close or matches the $200 Kindle Fire/Nexus 7 price point.
It will be interesting to see how an iPad Mini will compare to the smaller tablets. The new iPad (3 gen) is leaps and bounds ahead of rivals in terms of display technology and battery life – and it starts at double the price of its 7-inch rivals.
But a smaller, cheaper iPad would have to skimp down on specs too. It's unlikely we'll see a Retina Display in an iPad Mini, and perhaps not even dual cameras (same as its competitors), unless the price is slightly higher – say $250, because right now Apple sells the entry-level iPod Touch at $199.
Follow Daniel Ionescu and Today @ PCWorld on Twitter