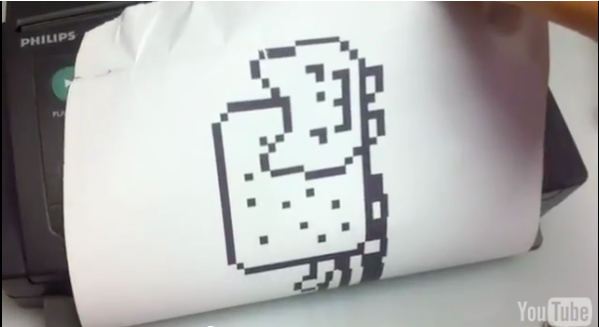 How often do you actually use a fax machine? If you're anything like me, your answer is probably "not often." But Nyan Fax might convince you to fire up that fax machine more often.
Nyan Fax is a project by UK-based maker-of-things Tom Scott that lets you print out a faxed version of Nyan Cat, the trippy 8-bit rainbow-spewing cat meme, complete with a monochrome rendition of its rainbow trail. Here's how it works: You dial a specified number using your fax machine, then press the Start button on your machine once the fax server responds. Out will print more Nyan than you can handle until you press your fax machine's stop button.
To give it a try for yourself–and to see video of Nyan Fax in action–head on over to Tom's site. Note, however, that you'll have to dial a UK fax number, so if you're outside the UK, you might want to check and see if you'll get charged for a long-distance call before you satisfy your Nyan Cat cravings.
Now, if you'll excuse me… nyan nyan nyan nyan nyan nyan nyan nyan nyan nyan nyan nyan nyan nyan nyan nyan nyan nyan nyan nyan nyan nyan nyan nyan nyan nyan…
Correction: The story as originally published omitted two nyans from the opening verse of the Nyan Cat song. We apologize for the omission and regret the error.
[Nyan Fax]
Like this? You can also has…
Get more GeekTech: Twitter – Facebook – RSS | Tip us off
Note: When you purchase something after clicking links in our articles, we may earn a small commission. Read our affiliate link policy for more details.