At a Glance
Expert's Rating
Pros
Handles all types of backups
Easy to use
Our Verdict
Save your data with the most comprehensive backup and restore tool in the market.
Acronis True Image Home 2012 ($50, 30-day free trial with feature limitations) is as close to a backup jack-of-all-trades as you'll find for consumers. It supports imaging, file backup, online backup, synchronization (local, online, remote) and even continuous backup. Even better, Acronis has made tremendous strides in its user interface in this iteration. True Image Home is now truly well-organized and well thought-out, though the language in labels and documentation is sometimes rough.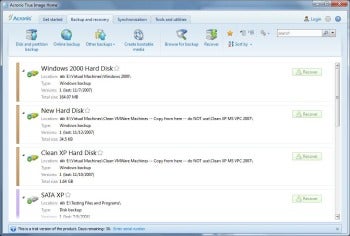 True Image Home 2012 has numerous handy tools that aren't strictly backup-related. Secure Zone is a hidden partition like the one you'd find on notebooks and is used to restore your system without resorting to boot media. There's also a boot manager that adds images to the boot sequence if you're using Windows 7 Enterprise or Ultimate. There's a driver for greater than 2.2TB support in XP, conversion of True Image backups (.tib) to Windows backups (.vhd) and vice versa, a file shredder, a disk wiper, and a CCleaner-like system clean-up utility.
True Image Home 2012 lacks support for Microsoft's dynamic disks, which shouldn't affect many home users. You should stay away from them unless you're running a server–there's no need, and the RAID is prone to unnecessary and time-consuming rebuilds. Restoration to dissimilar hardware is also missing, which could affect more users. However, Windows Vista and 7 are much better at booting with different hardware than XP was (SP2 and later got better) so this isn't a huge loss either. You can purchase the $30 Plus Pack that offers these features.
All of True Image Home 2012's local functionality worked well for me, though enumerating devices on the network proceeded glacially at times. Also, I would prefer being asked before a program scans my system for files. True Image Home 2012 scans automatically and painfully cataloged my many virtual machines, which aren't backups and which I don't want to mess with.
Perhaps the best new True Image Home 2012 feature is the ability to synchronize data between local drives, the Acronis online service, and remote network locations. If you work with the same data on different machines and from remote locations, this can be incredibly handy. The online backup service is $5 a month, or $50 a year for 250GB. That's a highly competitive rate, and with the ability to synchronize folders between an online account and numerous PCs–a lot handier than the average service.
You'll be hard-pressed to find a more complete consumer backup solution than Acronis True Image Home 2012. If free solutions such as Easeus Todo Backup don't cut it for you, then this is where to start looking.
Note: The Download button takes you to the vendor's site, where you can download the latest version of the software.
–Jon L. Jacobi