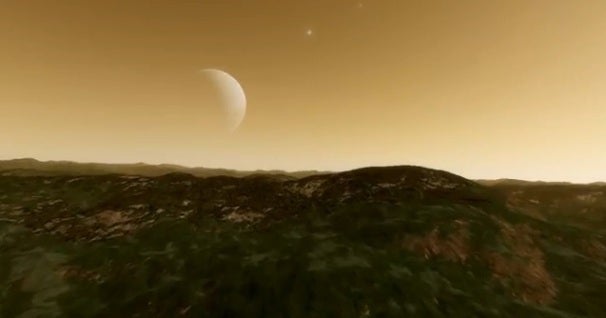 The plainly-named SpaceEngine may be the closest most of us will ever come to intergalactic travel. Described as "free space simulation software," SpaceEngine is a rather heady combination of actual astronomical data and procedurally generated information. In other words, you'll get to see everything from an accurate model of Earth's atmosphere to the game's extrapolation of galaxies we have yet to even dream of.
The list of available functions is rather impressive. According to the description on the SpaceEngine website, SpaceEngine has every type of celestial object known to modern astronomy. It also lets you exercise time control in order to observe the rotation of planets and their orbital movement, view orbital paths, take in the splendors of 3D planetary landscapes and volumetric space models, import your own user add-ons and, most importantly, pilot spaceships. Depending on how much you've wanted to work for NASA, this may be the niftiest component of SpaceEngine.
Not only can you zip through this virtual universe like the Silver Surfer with Free mode, but you can choose between Spacecraft mode and Aircraft mode, both of which utilize inertia to simulate a rigid body in zero gravity. The only thing that SpaceEngine is missing is a contingent of little green men.
As you might have guessed already, the system requirements for SpaceEngine are somewhat hefty. At bare minimum, you'll need a computer that has a 2GHz processor, 2GB of memory, a 512MB video card, and Windows XP. Visit the SpaceEngine website to learn more, and to download the app.
Like this? You might also enjoy…
Get more GeekTech: Twitter – Facebook – RSS | Tip us off