At a Glance
Expert's Rating
Our Verdict
Easily copy your hard drive with straightforward single-task utility NTI Echo.
NTI Echo 3 ($20, buy-only) is a copying utility that makes cloning hard drives and partitions dirt simple. It works well, and it's relatively inexpensive.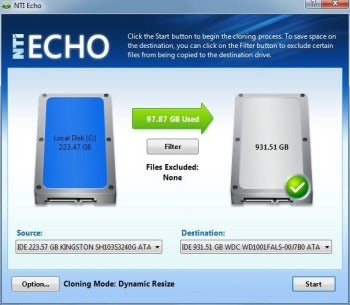 While all it does is copy data, NTI Echo 3 can do so in several ways. It copies single partitions and entire drives, and it can also copy both while filtering out file types you define (handy for skipping large swap files that Windows will recreate). You may also have the program dynamically resize partitions to fit the new drive. For instance, if a partition took up 33% of a 250GB drive, you can have it take up the same percentage of a larger 500GB drive. It's not a unique feature, but it is useful.
I do have two relatively minor complaints. While NTI Echo 3 warns you that it's going to overwrite any data on the destination drive, it could be more proactive in this regard. The warning comes only after you've chosen said disk from a drop-down list, and it's not called out particularly well. Perhaps a warning when you actually choose the disk would be better. Best practice would be to show the drives and exactly what's on them. Also, Echo 3 performs cloning during a reboot–not from within Windows as some programs do.
Echo 3 is handy, and there's a beauty in its dedication to a single task. Indeed, NTI hawks "Power In Simplicity." Just be aware that you can clone your drive, albeit in more steps, with Windows Vista/7 Backup and the Windows boot disk. Also, you can get the same abilities and a whole lot more with programs such as Acronis True Image Home 2012 ($50), Paragon Hard Disk Manager Professional 2012 ($100), and R-Drive Image ($45).
–Jon L. Jacobi