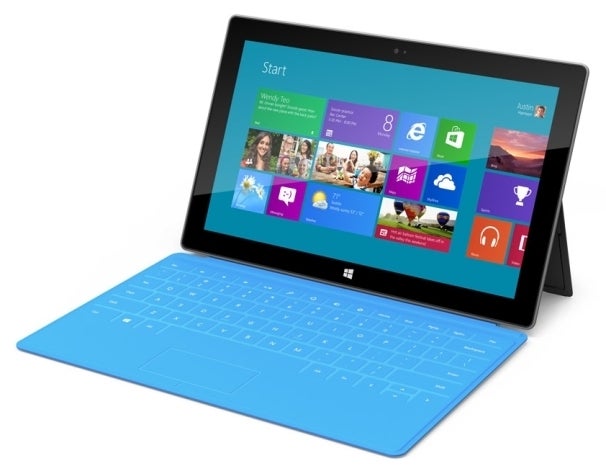 Microsoft hopes to sell at least a few million of its Surface tablets after Windows 8 debuts in October, according to company chief executive Steve Ballmer. The Microsoft chief made the comments during the opening keynote for Microsoft's Worldwide Partner Conference in Toronto. Ever since Microsoft announced Surface, critics have debated whether the company will follow Apple's lead and start designing its own hardware on a regular basis or whether Surface is just a limited-edition "reference design" meant to inspire its hardware partners to do better.
[SLIDESHOW: Microsoft Hardware: Successes and Failures]
Based on Ballmer's comments, it appears that Microsoft isn't entirely clear on the answer either. During the keynote, Ballmer's comment on selling a few million devices suggests that the company doesn't have huge iPad-busting plans for the Surface. Apple has already sold more than 27 million iPads in 2012, far more than the "few million" Ballmer suggests the Surface will achieve. But we already knew that didn't we? The iPad is available from Apple and a number of third-party retailers including Amazon, Best Buy and Target. Microsoft said it plans to sell the Surface only in the U.S. and only through its small chain of retail stores as well as online, at least at launch.
Ballmer also sat down for an interview with CRN.com, saying that Microsoft intended to leave "no stone unturned" in its fight against Apple. "We are not going to let any piece of this [go]…not the consumer cloud. Not hardware software innovation. We are not leaving any of that to Apple by itself," Ballmer said, according to CRN.com. "We do feel empowered to innovate everywhere and bring our partners with us," Ballmer said.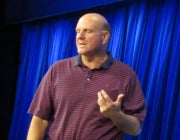 Ballmer was also asked whether Microsoft would build its own smartphone instead of leaving handset design to partners such as Nokia and HTC. The Microsoft chief didn't rule out the possibility of making a Microsoft-branded smartphone, saying only that the company was currently focused on Surface. Microsoft's Windows Phone chief, Greg Sullivan, said in late June that the company was "very satisified" with its Windows Phone hardware partners.
So Microsoft wants to make sure that Apple doesn't get any further ahead of Microsoft in the consumer space than it already is, at least in terms of tablets, but at the same time Ballmer knows Microsoft can't alienate its hardware partners.
That's going to be a tough line to tread.
There's already some concern that hardware makers are miffed at Microsoft for announcing Surface. As Endpoint Technologies Associates analyst Roger Kay recently told IDG News, Surface has the potential to take future revenues from Windows hardware manufacturers looking to use Windows 8 on tablets.
Nevertheless, it's clear Microsoft is making a big bet on the future with Windows 8. The touch-centric OS is a big departure from Microsoft's keyboard-and-mouse focused predecessors and generating a fair amount of interest among users and critics. Meanwhile, the popularity of the iPad is soaring, Android tablets are largely failing, and market research firm NPD Group predicts that tablets will outship notebooks by 2016. With the technology world trending toward slates, Microsoft may have had no choice but to "set the tone" for what Windows 8 tablets should look like by creating Surface.
But will that plan lead Microsoft into becoming a hardware maker on a regular basis? I guess that all depends on how popular Surface tablets are when they launch this fall.
Connect with Ian Paul (@ianpaul) on Twitter and Google+, and with Today@PCWorld on Twitter for the latest tech news and analysis.