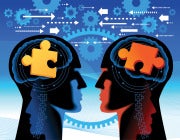 If you're collaborating with coworkers on Microsoft Word documents, and you're finding yourself frustrated because your collaborators are making changes without informing you, it's time to turn on the Track Changes feature. This tool records all the changes that anyone makes to a document, so you can review every change and either incorporate it into the document or reject it.
Track Changes is turned off by default. However, if you'd like to use it but keep forgetting to activate it while you're reviewing a document–or if you work with someone who does–Word has a way to force the issue. I'll show you how to use this trick and several others. I'll also show you how to avoid embarrassing yourself or your company.
Track Changes Made to a Document
To record changes to a Word document, click Review > Track Changes to turn the feature on. At this point, Word will track and display all additions or deletions you make to the document. Be sure to right-click the status bar and click Track Changes in the pop-up menu. Once you do so, a quick glance at the bottom of the document window will indicate whether Track Changes is on or off, and you can toggle between the two states by clicking the Track Changes button.
The method that Track Changes uses to mark up the edits will depend on how Word is configured. Typically a vertical line will appear to the left of any text line that contains a change. Inserted text will be colored and underlined; deleted text will be formatted with strikethrough.
View and Hide Changes
As you work, you might find Track Changes' colorful markup to be distracting. You can hide the markup by selecting a different 'Display for Review' option from the Review tab. Generally the 'Display for Review' option is set to 'Final: Show Markup'. To change this, click Review, and in the 'Display for Review' drop-down list, click Final to see the document as it would look if all the changes were incorporated. This action doesn't apply the changes–it just shows the document with the new text added and the deletions removed. To see the document as it was prior to the changes, click Original in the 'Display for Review' list. Click Final: Show Markup to return to seeing the changes marked up in the document.
See How Markup Formatting Is Configured
To see the Word settings that control the formatting of added and deleted text, click Review > Track Changes > Change Tracking Options. The default settings ensure that each person's edits appear in a different color, so you can easily identify them. You can alter the settings, but the only change I would consider is to disable the tracking of formatting changes and moved text.
Finalize a Document by Reviewing the Changes
Before you finish and distribute a document, you'll want to review the changes made to it. Click Review in the Ribbon, and then click Next. Word will take you to the first of the changes in the document. The change will be highlighted for easy identification.
You can then click either Accept or Reject on that change (these buttons appear to the left of the Previous and Next buttons). Word incorporates accepted changes into the document, and undoes or deletes rejected changes. Immediately after you click either option, the cursor moves to the next change in the document. You can skip a change without dealing with it by clicking Next.
If you want to accept all of the changes in the document at once, go to the Accept drop-down list and click Accept All Changes in Document. By the same token, if you want to eliminate all the changes, go to the Reject drop-down list and click Reject All Changes in Document.
Next Page: Work With the Reviewing Pane
Work With the Reviewing Pane
In addition to seeing the changes marked up in the text, you can examine them displayed in a different way: in a viewing pane. Click Review > Reviewing Pane. (You can select Reviewing Pane once to reveal the pane, and click it again to hide the pane.)
Choose between a vertical pane or a horizontal pane by selecting an option from the drop-down list. Even if you typically don't use the Reviewing Pane, it might appear from time to time, when a particular change you are viewing cannot be shown in its entirety on the screen.
If you make the Reviewing Pane visible, you will see that each change is labeled with the editor's name. If your name is incorrect here, or if you want to change it to something other than what's displayed, click Review > Track Changes > Change User Name. This action opens the Word Options dialog box at the place where you can change the user name and initials that Word uses to identify you.
Save Track Changes Markup With a Document
When you save a document, the marked-up, tracked changes remain included within it. That makes sense, but it can be an invitation to disaster. Consider a scenario in which you are viewing a document with 'Display for Review' set to Final; you can't see the tracked changes, but they're still in the document. If these are changes that might embarrass you or your business if they were to be made public, you don't want that document to leave your control in that state. Many companies and politicians have been compromised in this way, so it pays to be careful.
To avoid saving and sharing a document with tracked changes in it, you should configure Word so that it warns you before you do so. Word won't alert you by default, but that's easy to remedy: Click File > Options > Trust Center > Trust Center Settings > Privacy Options. Click the Warn before printing, saving or sending a file that contains tracked changes or comments checkbox to enable it. In the future, whenever you save any document containing tracked changes–visible or not–Word will sound the alarm.
Selectively Review Edits Made to a Document
When several people have worked on a document, each person's changes will be marked up independently of everyone else's, in a separate color or style of insert and deletion. When you're reviewing a document, you can isolate the changes from one or more people, so that only those edits display in the Show Markup list. Click Review > Show Markup > Reviewers. Select the reviewers whose edits you want to see, and deselect the names of reviewers whose contributions you want to hide.
Force Changes in a Document to be Tracked
In some situations you might want to force Word to turn Track Changes on so that any changes made to the document are automatically recorded, and so that no one can disable Track Changes. To do this, click Review > Restrict Editing, and in the task pane, click the Allow only this type of editing in the document checkbox. In the drop-down list, click Tracked changes. Click Yes, Start Enforcing Protection, and then, if you desire, type a password to protect this setting so that no one can disable it without the password. Now your colleagues can view, edit, and save the document, and any edits they make will be stored in the document.
Track Changes can help you work equitably in collaboration with others. It allows everyone to work on a document together and to make changes and edits, but it isolates the changes so that they remain visible and easily edited themselves.
Other stories you might like:
* Five Microsoft Word Nightmares–and How You Can Fix Them
* Work Faster in Microsoft Word: 10 Secrets
* Make Image Magic in Microsoft Office 2010: 10 Cool Tricks