Research in Motion's first BlackBerry 10 phones will miss the holiday shopping season, but according to the company's executives, it's not the end of the world.
RIM CEO Thorsten Heins told CIO that there is a "lot of noise coming" toward the end of the year, presumably referring to the next iPhone, new Android phones and devices running Windows Phone 8. BlackBerry 10 will get more attention by launching in the first quarter of 2013, he said.
"I'm not happy about this, but the point is, there's a lot of noise out there anyway," Heins said. "You have to ask yourself, is it good to launch within a lot of noise?"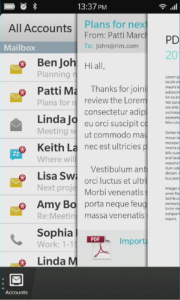 Frank Boulben, RIM's new marketing chief, had a similar message for Reuters. "The short delay is not detrimental if the quality is there when we launch early next year," he said. "We will have much more attention and focus and ability to leverage our carriers."
It's a fair point, but RIM's optimism didn't do much to soothe shareholders. As Slashgear reported, investors at RIM's annual shareholders meeting showed their dissatisfaction by withholding 14.8 percent of their votes for Heins, and 19.1 percent of votes for Vice Chairman Mike Lazaridis, who was formerly the company's co-CEO. A report in the New York Times speculates that BlackBerry 10 delays could lead to lawsuits from shareholders, who've been told repeatedly that everything's okay.
Of course, RIM is not okay. A chart from Asymco shows that RIM's year-over-year smartphone shipments went negative around the end of 2011. As of last quarter, RIM's global smartphone market share was down to 6.7 percent according to a chart from Statista, compared to 20.1 percent at the company's peak two years ago. Although RIM's market share is growing in developing regions, its share of the U.S. market is in a nosedive.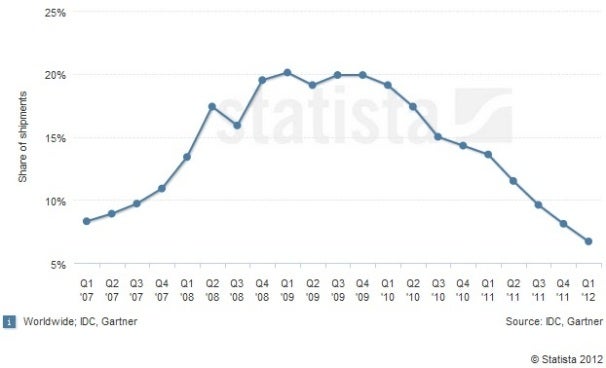 BlackBerry 10 has some interesting features, such as a smart keyboard with predictive text and a camera that lets users rewind to the moments right before a shot. But the company's absence from the market translates to a critical loss of third-party app support. RIM may be right to delay BlackBerry 10 and ensure that it's perfect, but at this point even the company's best efforts might not be enough.
Follow Jared on Twitter, Facebook or Google+ for even more tech news and commentary.