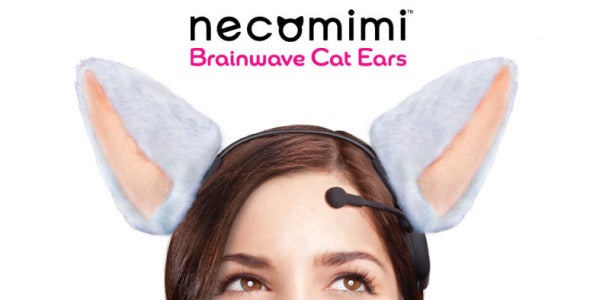 Why talk about your feelings when you can flutter artificial feline ears at people? Neurowear's Necomimi, which which will premiere in the US at Comic-Con 2012 (which opens this week in San Diego, CA), is, uh, an interesting device, to say the least.
The Necomimi is a headset that "captures brainwave data, filters out electrical noise, and interprets your brainwaves" in accordance to NeuroSky's Attention and Meditation algorithms before translating all that data into ear movements.
While the idea of being able to realistically cosplay as a cat-person has set off an avalanche of interest, the Necomimi is only really capable of wiggling in three different ways. When you're interested in something, the ears will perk up. If you're relaxed, they'll fold downwards. Being in "the zone," interestingly enough, will cause it to twitch madly in response. Do we want to think about what some people have done with it? No. No, we do not.
At $99.95 (US), the Necomimi is somewhat pricy for what is essentially a novelty item, but that doesn't mean it won't be purr-fect for your next cosplay convention. Er. Quite.
[Necomimi]
Cassandra Khaw is an entry-level audiophile, a street dancer, a person who writes about video games for a living, and someone who spends too much time on Twitter.
Like this? You might also enjoy…
Get more GeekTech: Twitter – Facebook – RSS | Tip us off