At a Glance
Expert's Rating
Pros
Works as advertised
Looks stylish
Cons
Does little that Google doesn't already do
Our Verdict
Windows application Moborobo helps you manage your Android smartphone.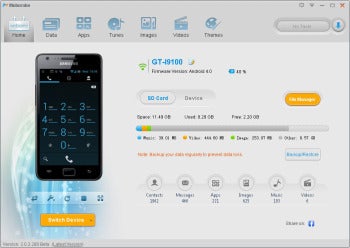 Android smartphones have always been easy to manage "over the air": You can install apps using Google Play with any desktop browser, and manage your contacts using Gmail's contact manager. If you use Gmail, this means there is no need to back up your email, either, and apps like Titanium Backup can back up everything else and even sync it online. With such strong cloud sync abilities, is there a real need for a dedicated desktop client for managing your phone? If you ask Moborobo, the answer is "yes"; I say the answer is "not for most Android users."
Moborobo's client sports a non-Windows look, with a muted gray background and a large monochrome icon for each of its seven tabs. When you run it, it pops up a UAC elevation prompt asking for Administrator privileges. Then, it lets you connect to your Android device using a USB cable or over Wi-Fi, as long as the device and your computer are connected to the same network. Moborobo marks the USB connection as Recommended, and after trying both connection modes, I agree. For Wi-Fi connectivity to work, you must install a separate Android app, Mobo Daemon, which requires root access. And even then, the wireless connection was flaky and dropped out several times while I was working with Moborobo.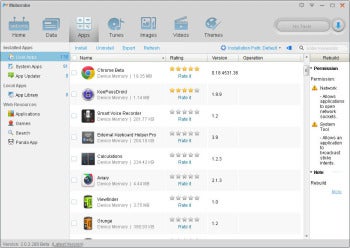 USB connection had no such problems, and was stable, if not always fast. Once you connect your phone, the Home tab transforms to display a beautiful image of your phone model (autodetected) along with whatever is currently shown on-screen, so it's like a miniature of your phone right on your desktop. You can't interact with it, though, and the screenshot is static by default. You can switch on auto-refresh so that new screenshots are constantly downloaded. Even so, the refresh rate is slower than that of Ashot, my favorite Android screen capture tool for Windows. Also, Moborobo doesn't let you resize the diminutive device thumbnail, while Ashot does.
The Home tab also shows basic statistics about your phone's storage space, contacts, messages, apps, images, and more. The Data tab lets you browse the contacts on your phone, as well as your text messages and call log. Next comes the Apps tab, which lets you install apps onto your device. When you pick an app to install, Moborobo downloads it and then sends it to your phone for installation.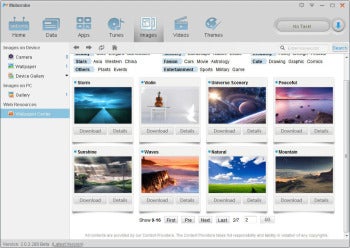 Next are three multimedia tabs: Tunes, Images, and Videos. The Images tab contains a Web Resources section with a Wallpaper Center that lets you sort and download nice mobile wallpapers. When you download a wallpaper, you still have to apply it yourself. The last tab, Themes, is dedicated to Mobo Launcher–an Android launcher by Moborobo Inc.
Moborobo doesn't answer a vital need, at least not for most users. But it does work, and if you don't like to use Google's contact management services but are still stuck with an Android device, it does give you a different way to access and update your apps.
–Erez Zukerman