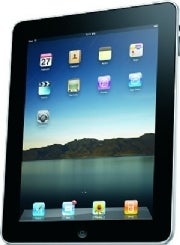 Apple is reportedly looking to combat the slew of 7-inch Android tablets such as the Kindle Fire, Toshiba Thrive and Samsung Galaxy Tab with a smaller version of the iPad. The company is rumored to be testing a new iPad design with a display size around 8 inches and a resolution similar to the iPad 2's 1024-by-768 display. Apple, however, has yet to sign off on the idea to start producing the purported iPad Mini, according to The Wall Street Journal.
A smaller iPad is not expected in March, when most Apple watchers believe the company will unveil the third iteration of its tablet. And yet, reports about Apple looking at smaller designs persist. So could it be true? Is a smaller iPad on the way to save Apple's tablet from the onslaught of more cheaply-priced Android competitors?
Probably not. Let's take a look at why.
Android is threatening?
A highly cited statistic from metrics firm Strategy Analytics says sales of Android-based tablets nearly tripled during the last three months of 2011. Android now accounts for 39 percent of the tablet world, according to the firm. The iPad, meanwhile, hangs on to about 57.6 percent of tablets worldwide dropping from about 68.2 percent the year previous.
While losing 10.6 percentage points is a sharp drop for the iPad in just one year, remember those statistics are counting all Android devices together, including 7-inch devices such as the Acer Iconia Tab A100 and larger devices such as the Samsung Galaxy Tab 10.1. The iPad is a single device and still accounts for the lion's share of the tablet market compared to a generic Android category.
Next, there's a November report from market research firm NPD that said 1.2 million tablets were sold in the U.S. from January through October 2011, not including the iPad. Worldwide, Apple sold more than 25 million tablets between January and September that same year. Since the company does not break down its sales by country, it's impossible to know how much of that more than 25 million came from U.S. sales. But let's assume the iPad's U.S. sales are just a mere 10 percent of the total. That estimate is likely way off since Apple in October said international sales of all its products accounted for 63 percent of the company's revenues for the third quarter of 2011. But even if you handicap Apple at 10 percent, the iPad's sales in the U.S. were still more than double that of all its tablet competitors combined.
By any measure, Apple's iPad sales are far stronger than the rest of the tablet market. So strong, in fact, that the only way to make it look like the iPad has any competition at all is to combine every single tablet that's not the iPad into one monolithic category. Only then do you see the iPad's share of the tablet market slipping. So Apple needs to produce a smaller iPad to combat the threat from the Galaxy-Iconia-Transformer-IdeaPad? Probably not.
Fire troubles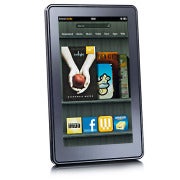 Then again, one possible threat to the iPad could be Amazon's Kindle Fire, which launched in November. The Kindle Fire provides easy access to Amazon's retail offerings including ebooks, MP3s and online videos. Amazon said in January that the Fire was the company's best-selling product over the holiday season, but declined to say exactly how many devices it sold.
One widely cited estimate by Stifel Nicolaus analyst Jordan Rohan puts Kindle Fire sales during the last quarter of 2011 somewhere between 5 million and 6 million. Apple during the same time frame sold 15.3 million iPads. But the iPad was on the market nearly twice as long as the Fire during the quarter, meaning that if you cut the iPad's sales in half (hardly scientific, I know) to 7.65 million units sold, the Fire looks like a more serious competitor.
But it's not yet clear if the Fire can maintain its popularity beyond its initial launch and subsequent first-year holiday sales. Nevertheless, the Fire may be Apple's most serious competitor yet thanks to the wide range of Amazon digital content that makes the Fire an enticing buy. Competition from Amazon may encourage Apple to sell a cheaper iPad, but would that cheaper tablet be a smaller iPad or simply a downgraded 4 or 8 GB iPad 2 selling next to the iPad 3?
Connect with Ian Paul (@ianpaul) on Twitter and Google+, and with Today@PCWorld on Twitter for the latest tech news and analysis.
Note: When you purchase something after clicking links in our articles, we may earn a small commission. Read our affiliate link policy for more details.