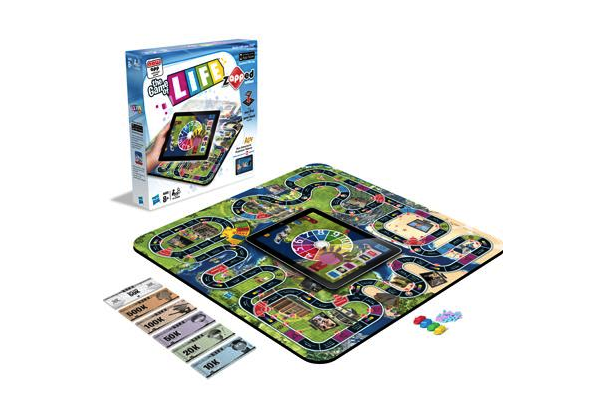 Hasbro plans to release new editions of three of its classic games this year. The spin? The zAPPed games will use iOS devices to help bring them to life.
The Game of Life zAPPed is available in stores now. Instead of being represented by tiny, featureless pink and blue pegs, players can completely customize their virtual pegs, adding hair, hats and other accessories. The iPad is also used to play a series of mini-games that have been integrated into the main game, as well as serving as the spinner, complete with an authentic tick-tick-ticking sound. Hasbro additionally partnered with America's Funniest Videos to bring life stage appropriate videos to the game.
In Monopoly zAPPed, you can use any iOS device as a digital bank. That's right; there's no paper money in this version of the game, which is good for those with limited math skills but bad for those who liked to hedge their bets by hiding a few hundreds under the board. [Crap; there goes my entire strategy. –Ed.] Instead, each player gets a "debit card" that lives on your iOS gadgetry–just tap it to complete a transaction. The Community Chest and Chance cards have also gone digital, replaced by more digital mini-games. You can play additional mini-games to get out of jail or avoid fines. [Man, imagine if that existed in real life… –Ed.]
With Battleship zAPPed, you place the battleships onto the surface of an iPad. Special conductive paint on the battleships will allow the iPad to track their positions (Monopoly zAPPed uses a simiular technology to differentiate the debit cards).
Monopoly zAPPed should be out this June, with Battleship zAPPed following in September. The games should all be priced around $25, but they of course do not include the iOS devices, which could be the bigger price hurdle for some. The accompanying iOS apps will be available for free in the App Store.
Like this? You might enjoy…
Get your GeekTech on: Twitter – Facebook – RSS | Tip us off