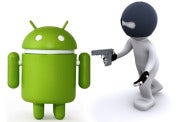 So you lost your Android phone or tablet, and you don't have a remote antitheft or GPS location app installed? Don't beat yourself up too badly, because a few tricks may still help you remotely locate or secure it.
In this guide, we'll show you how to use two Android apps that can be remotely installed and activated via the Android Market website, which can give you a second chance at finding your lost or stolen smartphone. Of course, your Android device must be powered on and have either a data or Wi-Fi connection in order for this to work. If your device is turned off, you might still have a chance of locating it when someone turns it back on.
Retroactively Remote-Control Your Device With AndroidLost
AndroidLost is a remote-control app for Android devices that you can use for a variety of remote functions (including playing a siren and locating your device on Google Maps) via text (SMS) commands or the AndroidLost website. To get started with AndroidLost, you'll need a computer (or perhaps another smartphone or tablet) that you can use to access the Internet and check email. If you can, you should also ask a friend with a mobile phone to help you send SMS commands to your lost or stolen smartphone.
AndroidLost is still in beta, but it already offers a bunch of neat remote features including SMS and call-log retrieval, plus features for sending text messages from your phone, taking and receiving photos from the camera, displaying messages on the device, and custom text-to-speech announcements that you can use to broadcast messages from your lost or stolen device. You can also check the status (battery level, IMEI, phone number, and so on) of your missing device and have it send an email alert if the SIM card is changed. AndroidLost can also remotely lock your device with a PIN or even wipe it and restore your phone or tablet to the factory default, but these options can't be enabled unless you assign the AndroidLost app administrative rights, which must be done from the missing device. However, even without access to your smartphone or tablet you can erase the SD card to protect your data.
First, in your Internet browser, open the AndroidLost page in the Android Market, click Install, and sign in with the same Google account you use on your missing Android device. Within seconds, the AndroidLost app should automatically install itself on your device. Note that before you can start issuing remote commands, the AndroidLost app needs to authenticate your device with Google's servers, which it should do automatically.
To check if the app has registered your device, go to the AndroidLost website and sign in with the same Google account that you use on your device. From there, click the Controls or Settings pages; if the pages appear with remote-control options for your missing device, you're good to go. If not, you need to keep checking by logging out and back in every 5 minutes or so. If time is of the essence, you can try to force registration by sending an SMS message that reads "androidlost register" to your device from someone else's phone. If you're trying to remote-control an Android tablet, you can remotely install the AndroidLost Jumpstart app to expedite the device registration process.
In our testing, the app remotely installed on two different Android smartphones but took a surprisingly long time to validate the phones with Google. However, sending "androidlost register" SMS messages to both phones forced a successful registration in seconds. Once the app successfully verifies your device registration with Google, you'll be able to access the Controls page for your missing device on the AndroidLost website, where you can remotely locate or lock down your lost smartphone.
Go to Plan B From Lookout
Lookout offers a full-featured security app for Android devices that has antivirus protection, data backup, and antitheft and remote-location features, but taking full advantage of Lookout requires you to install and set it up on your device before you lose it. However, Plan B is the company's nifty app that you can install after you've lost your phone. It doesn't offer remote siren or locking features like AndroidLost, but Plan B does provide an estimated location via an updated Google Map that can help you find your missing device. To get started, you just need access to a computer (or possibly another smartphone or tablet) to get online and check your email.
First, visit the Plan B Android Market page and click Install; then sign in with the same Google account you use on your missing device. Within seconds, the Plan B app should be remotely pushed and installed to your device. If GPS location services are turned off in your Android device settings, Plan B will try to automatically enable it. If that doesn't work, the app will use cell towers to provide a rough estimate of where your missing device is located.
Within a few minutes of installing Plan B, the app will automatically open and start sending emails to the GMail account you registered on your device. It took about two minutes in our tests before Plan B began emailing maps of where our device was, and Plan B will continue to send emails with updated information about your device's location until you disable it. Messages will arrive from the Plan B app as often as every 2 minutes with the current location of your device, including GPS coordinates, accuracy in meters, and a Google Map showing the estimated location.
If Plan B doesn't automatically start or you want more location updates after the first 10 minutes, you can send an SMS message with the word "locate" to your device from someone else's phone, and Plan B will automatically make your device reply via text message with its current location info.
This is a great way to track your phone if you lose access to your GMail account–and hopefully this guide ensures that you'll never have to worry about losing an Android device again.