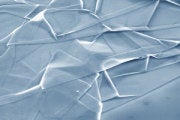 Everyone who's followed science news in the last couple years knows that graphene is the new sliced bread, but after the initial breakthrough and exitement, no one has been able to solve the riddle of current leakage. See, you have to pack transistors pretty tightly on a computer chip; each chip has to have regulated voltage in order to perform its task of being on or off. Graphene, even insulated up the wazoo, leaks its charge out, which would cook the surrounding transistors.
So what do you do when the awesome power of graphene as the new silicon in computer chips is relegated to wishful thinking, given how much current the transistors leak? You pack them a different way, according to a University of Manchester science team.
The researchers used a totally new idea for housing transistors: putting them in a vertical field. Instead of using graphene laterally, they used it vertically by utilizing what's called a tunnelling diode. A tunnelling diode is an electrode that you use in tandem with another metal via passing through an electric field (called a dielectric) that can be polarized.
It sounds pretty technical–even a bit like sorcery–but what it breaks down to is simply a channel developed for a current to follow. Graphene just happens to be able to radically change the energy of tunnelling electrons when external voltage is applied, which is just one of its superhero powers. What the University of Manchester ended up with was something entirely new: a vertical field-effect tunnelling transistor. Instead of being built on a plane span, it's vertical. 3D!
Maybe the science team saw too much Avatar. Whatever the case, it's a novel idea that may put graphene back in the running for computer chips, which would make the computers of tomorrow blindingly fast in comparison to the computers of today.
Cool, huh? Keep an eye on GeekTech as we follow graphene to mainstream usage. It'll be awesome.
[University of Manchester via nano.org]
Like this? You might also enjoy…
Get more GeekTech: Twitter – Facebook – RSS | Tip us off