At a Glance
Expert's Rating
Cons
No view of your own tweets
Our Verdict
Want to stay on top of Twitter's hot topics? TwitScoop promises to help you do exactly that…but its results are mixed.
Finding Twitter a bit overwhelming? Can't seem to figure out what's hot, and what's not? Twitscoop is here to offer help: This free, cloud-based service is designed to help you dig through the din of Twitter noise in order to find out what's hot now. How well it works is debatable, though.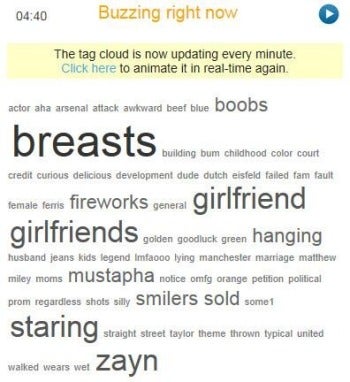 TwitScoop is a free service that runs in your browser or on your iPhone, and it features an interface that is reminiscent of Twitter's own, albeit one that's a bit less refined, and with more annoying ads. If you connect the service to your Twitter account (a quick and easy process), you'll see your own Twitter timeline appear on its home page. But its Twitter management features are limited. While you can switch the view to see Direct Messages and Replies, Twitscoop is curiously missing other options, such as the ability to view a list of your own Tweets.
While TwitScoop offers the basic functions of Twitter, its focus really is on Twitter's trends and hot topics. The right side of the screen features a frequently-updated tag cloud that allows you to see terms that are "buzzing right now." Unfortunately these terms, which are generated by Twitscoop's own API (which the company says is licensed out to competitors TweetDeck and Seesmic), didn't always prove especially helpful. The terms often were either terribly vague ("regardless") or of questionable origin ("breasts" and synonyms of same, for instance). A check of Twitter.com's own trends at the same time revealed terms more useful on the testing date, such as #superbowl, SAG Awards, and Ferris Bueller.
If Twitscoop's Twitter management features were more comprehensive, I'd be willing to overlook the limitations of its tag cloud. And if its tag cloud delivered more relevant results, I'd be more willing to overlook the limitations of its management tools. As it is, though, Twitscoop's features are just too limited to make this service of much use.
— Liane Cassavoy