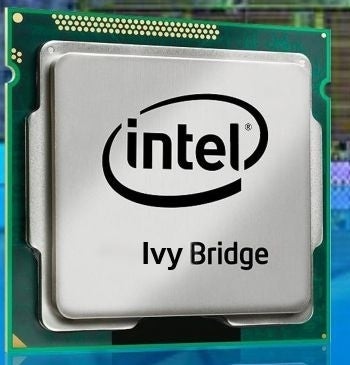 You may have to wait a little longer for that new Ivy Bridge ultrabook: Volume shipments of Intel's upcoming 22 nanometer die shrink of its Sandy Bridge architecture will be delayed, says Asian news (though as often rumormonger) site DigiTimes. Why? Because consumers aren't snapping up notebooks fast enough.
DT's source says Intel is actively notifying its partners of plans to delay volume shipments of Ivy Bridge this spring, though the site adds Intel will still announce and ship the processor in limited quantities in early April (if true, early adopters, expect to pay even more dearly for one). For volume shipments of the new processor, you'll have to wait until June.
What's to blame? The economy, for starters, says DT's source. Worldwide PC sales were sluggish in 2011, according to IDC, rising by just 1.6 percent over 2010. Analysts have said that's because of three factors: The sluggish economy, hard drive shortages caused by flooding in Thailand, and a partial consumer shift from PCs to tablets, smartphones, and other electronic devices that handle duties normally relegated to the PC. That, reports DT, has left Intel and its inventory chain with a glut of Sandy Bridge processors. The Ivy Bridge delay is intended to minimize the overflow's financial impact.
What's more, the site claims Windows 8 will arrive after September, and that consumer demand for notebooks is therefore expected to be tepid for 2012's first three quarters — what DT gloomily refers to as "a dark period for the notebook industry." Don't expect Ivy Bridge's full-volume appearance in June to do much for the laptop market, in other words, with Windows 8 on the horizon (to say nothing of the impact of Apple's iPad 3, reportedly launching sometime next month).
While Intel's not commenting on DT's claims, the company's CEO Paul Otellini recently said Ivy Bridge would launch "in early spring" and "improve on the graphics performance of Sandy Bridge by more than 70%." Intel CFO Stacy Smith then said that manufacturing costs would rise as the company begins selling Ivy Bridge, and that it would "ship lower volumes, when compared to the fourth quarter."
When asked about Ivy Bridge yields (compared to Sandy Bridge), Smith added that the company has "a very fast ramp of Ivy Bridge" and "strong demand," lending credence to DT's suggestion that the delay (if in fact there's to be one) is economic and not related to manufacturing problems.
Matt Peckham writes for TIME and PCWorld. You can find him on Twitter, Facebook, or Google+.